Djabe/Steve Hackett – Life Is A Journey - The Sardinia Tapes. Album reviewed by Alan Hewitt.
Djabe and Steve Hackett have been working on each other's projects now for over ten years and the results whether in the studio, or the concert stage have always been fascinating. The combination of Steve's Prog sensibilities and those of the more free form Jazz of Djabe makes for a somewhat unlikely alliance, but it works!
Here we have an even more adventurous outing than usual. Djabe took the unusual step of upping sticks and moving to Sardinia to record an album purely from scratch with the tape machine running to capture whatever the musicians involved produced. The result is their latest album - Life Is A Journey which gets under way with the title track, a laid back and mellow jazzer with some superb bass work from Tamas Barabas which is followed up by Golden Sand, which for some reason reminds me of Tangerine Dream at their most evocative.
Most of the tracks on this album are what you could call mood music, with a modern jazz feel. If you are a jazz aficionado, this album will definitely be up your street. To those of you new to the format, the result will I think surprise you. There is little or no programme to the tracks, so you are very much at liberty to draw upon your own ideas with regard to the images that the music conjures up as you listen to it. It is certainly fascinating to hear Steve in such an extemporised format, although some of his phrasings are instantly recognisable to the hardened Hackett fan.
Musically, this is an extremely accomplished and satisfying album. it might not be rock and roll but I definitely like it!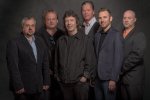 DJABE/STEVE HACKETT - LIFE IS A JOURNEY - THE SARDINIA TAPES. ESOTERIC RECORDS EANTCD 21068.