MUSICIANS CORNER
Well, it has been a while since we had a round up of some of the music which graces TWR HQ's sound system when not immersed in all things Genesis so, here is a look at some of the more recent additions to the collection.
First up is the recently released Which Way The Wind Blows - The Music Of Anthony Phillips. Yes folks, at last a tribute to Ant's phenomenal career. This album is the brainchild of Brian Coombes and his Rocking Horse Music Club. Brian's name may be familiar to some of you from his work with Anna Madsen whose Afflorescence album was reviewed in these pages a while ago.
Anyway, on with the music and the album kicks off with a rocking Um & Aargh, one of Ant's most acidic songs brought superbly to life here with a brilliant vocal by Patrik Gochez.
Paperchase is an altogether more delicate effort, one of Ant's more introspective songs delivered here in a superb fashion with a haunting vocal by Justin Cohn and some excellent guitar work by Myron Kibbee whose name you will find mentioned elsewhere in this edition of TWR. The band really nail this one and it serves as a wonderful example of what this music would sound like if Ant ever got a band together.
Which Way The Wind Blows is next, and is, without doubt one of the most iconic songs in Ant's entire catalogue, sung of course, by one Philip Collins no less! Well, the band didn't manage to persuade Phil to give it a go again but no matter when you have the superb Noel McCalla doing the honours. This is a spine tingling reading of one of my favourite Ant tracks and a suitably impressive guitar solo from Mr Stephen Hackett esquire. A more laid back and slightly jazzy reading but one which I enjoy immensely.
Silver Song gets its umpteenth outing here. Always a delight in whatever form it appears and here we have it in perhaps its best incarnation; a campfire song. With a wonderful vocal from Justin Cohn again and guitars from Brian Coombes and Josh Kimball and a lovely keyboard refrain from Nick Magnus no less - I love this version and found myself singing along to it as usual!
For me though, the real highlight of the album come s next with the sublime Something Blue. I remember helping Ant select tracks for the Dragonfly Dreams album where the instrumental version of this gem was released unsuspecting that a truly beautiful vocal version was lurking in the archive. A firm favourite from the get go, the version here is simply superb. Evelyn Cormier's vocals take this to new heights while the combined talents of Chris Dembro (nylon guitar), Jeremy Harman (Cello) and Wesley Thurber (Trumpet) make this a bona fide classic which merely serves to reinforce my opinion that this should (and still could ) be a hit single!.
Pulling Face is one of Ant's more slightly off the wall numbers but the band manage to imbue it with the same playful spirit of the original with Justin Cohn pulling off another tour de force vocal delivery and Steve Anderson puts in some stunning guitar work making this a superb reading of the original.
Collections, another firm favourite of mine (OK, you got me ALL of this music rates highly in my opinion!) a miniature symphony of a track, wistful and reflective with another marvellous haunting vocal from Patrick Gochez and a lovely piano part from Brian Coombes.
Sleepfall: The Geese Fly West too is a fine reading of the instrumental original with some excellent playing from all involved before the album comes to its conclusion with a wonderful instrumental work out of Nightmare, in which Eric Wagley takes on Mike Giles' part with evident gusto and the addition of suitably haunting vocal by Caroline Carter brings an added dimension to an already dramatic piece.
There you have it folks. If a tribute album's main purpose is to bring the original music and musician(s) to your attention then this one has certainly done its job superbly well, a credit to all involved and a genuine tribute to the work of Anthony Phillips - kudos to all involved.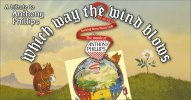 Rocking Horse Music Club: Which Way The Wind Blows - The Music Of Anthony Phillips. RH109-2
For more information: rockinghorsemusicclub.com

Next up are a quartet of albums under the generic title of Tigermoth Tales. These albums are the brainchild of the incredibly talented Peter Jones and are without doubt the finest examples of NEW Prog that I have heard in many a year.
The first album Story Tellers Part One sets the bar incredibly high with a reworking of some of the best known fairy tales. Involving an incredible array of instrumentation and vocal effects all from Peter himself, the album is laced with the kind of deeply dark humour present in the original stories which, as we all know, were never written for children in the first place! This one had me listening with rapt attention and the occasional grin from start to finish.
Tigermoth Tales; Story Tellers White Knight TMR0715
Story Tellers Part Two continues this vein with some absolutely fantastically re-imagined versions of some of the world's most popular fairy tales and fables. Toad Of Toad Hall is, as you might expect, a wonderfully ebullient musical pen portrait of one of literature's greatest children's characters. Searching For Eternity is without doubt, a masterpiece. Indeed should this have been released as a single ( know horror in the Prog world eh?) this should surely have achieved success, a beautiful ballad wonderfully performed by Peter and Emma Friend. The Boy Who Cried Wolf too, gives the well known story a brilliant twist giving the story an even more poignant twist. Meanwhile, Three Little Pigs is a superbly constructed retelling of the macabre story with a superbly amusing twist at the end. From humour to pathos as we are also given a superb evocation of the story of The Little Match Girl which will reduce all but the most heartless of souls to tears.
Tigermoth Tales: Story Tellers Part Two. White Knight WKCD 1018
Cocoon is the second album in the set. Once again, Peter has revisited his and our childhood for some retelling and reinvention of childhood favourites. I love the wonderful word use in Tigers in The Butter and the brilliantly evocative The Isle Of Witches while A Visit To Chigwick is truly wonderful another magical recreation of a time when it was safe to be a child and let your imagination soar.
Tigermoth Tales - Cocoon. White Knight WKCD0914
And last but by no means least, we come to The Depths Of Winter. I don't use this word very often but I have no hesitation in saying that this album is a masterpiece from start to finish. A wonderful exploration of popular myth and legend with a truly wonderful evocation of the folly and cost of war that is Exposure. For me The Tears Of Frigga and Hygge are without a shadow of a doubt the finest prog compositions I hae heard in at least the last ten years, I could listen to them forever and will be listening to them until I wear the CD out - if you can do such a thing? This is musicianship of the very highest quality and if you only purchase one album this year, make sure it is this one as I guarantee you will be hooked by these Tigermoth Tales just as I was!
Tigermoth Tales - The Depths Of Winter. White Knights WKCD1117

Finally in this round up we have another of those reissue thingies from the mighty Jethro Tull. This time we reach the last of what has been labelled as the Folk Rock Trilogy of albums: Stormwatch. An altogether darker album than its two predecessors, this one was, I suspect very much influenced by events going on in the UK and elsewhere at the time.
As usual with these releases, we are treated not only to the remastered version of the album itself, but a veritable cornucopia of extras not leas a second disc with out takes, early versions and previously unreleased material easily enough to keep any Tull fan happy. Then there is also a complete live recording taken from the tour which for this listener is a joy form beginning to end. Sadly no concert footage accompanies this release but that is a minor quibble when so much other material is gathered here for our delectation and delight.
In addition to all the musical delights, there is, as usual an accompanying booklet replete with essays on the creation of the album from many of those who took part in it informative, honest and at times amusing track by track commentary by Ian Anderson himself all go to make this yet another package any Tull fan will want in their collections.

Jethro Tull: Storm watch - The 40th Anniversary Force 10 Edition. Warner Music 0190295471804
Finally in this edition's selection comes another homage to the music of Genesis : Gazzara Plays Genesis is the brainchild of Francesco Gazzara an incredibly talented Italian keyboard player. If you have the two Genesis For Grand Piano albums, then this one will be right up your street. Stripping the vocals out of the equation and placing the emphasis on the music is a brave step and could so easily have fallen flat on its face. That is not the case here however, and there is much of genuine merit to be heard on this album Tackling Supper's Ready on a Bechstein Grand piano and assorted other keyboards etc is worthy of the CD price alone! And guess what? It works! Afterglow and Undertow work equally well for me although I admit it is strange not hearing the vocals on the former. Heathhaze and Guide Vocal provide a delicious coda to the album as well.

Gazzara Plays Genesis : Here It Comes Again IRMA Records IRM 1854
Finally for those of you bookworms out there, here are a couple of tomes for you to get your teeth into - figuratively speaking, that is!
First up is Brian C Chatton's autobiography, punningly titled: Rolling With Rock Royalty. This book delivers on so many levels. It certainly lives up to its title as during his lifetime, Brian has certainly played his part in the careers of many of the most esteemed figures in the world of rock music. What makes this book so special to me is its refreshingly forthright approach which makes for a thoroughly entertaining - laugh out loud - in some places - read. Laced with asides from some of the people associated with him, Brian's story is one which will fascinate anyone with an interest in the music scene of the last fifty years. Throughout it all though, Brian's character shines through as a genuine character and I cannot thank him enough for introducing me (thanks to the words of his father) to the proper description of Face book - "Facecloth"! Priceless, absolutely priceless! A genuine page turner from start to finish, this one is a must for any rock fan.

Brian C Chatton: Rolling With Rock Royalty. Self Published Edition ISBN 978-1-60414-968-5
And finally in this musical and literary round up is Genesis - The Lamb - Questa E La Storia Di Rael). A bit like buses, you wait for one an suddenly three appear! This is the third book on the subject following on the heels of Robert Ellis and Jon Kirkman's books on the subject. What does this one bring to the table that those two do not? Not being able to read Italian, I cannot comment too much on the text of this one, apart from saying that in addition to some of the features which appeared in Jon's book, there are additional features on several aspects of the tour and the recording of the album which add significant detail to the story.
In addition to this, there is a veritable treasure trove of images, memorabilia and much more besides including many previously unseen making this another fantastic addition to the canon of books on this subject. I think it is safe to say to say that with this, the market for The Lamb… (pun intended) has been well and truly satisfied - an excellent effort.

Mino Profumo/Jon Kirkman: Genesis The Lamb (Questo E La Storia Di Rael) Rizzoli Lizard ISBN 9 788817 105248