"Don't judge a book by its cover" - Chris Welch's book, "The Complete Guide To The Music Of Genesis" reviewed by Jack M Beermann.
First of all, before any accusations of bias may be levelled at the editor of TWR, I must stress that until I received Jack's review, I was completely unaware of this book's existence and still have not seen a copy to cast my own critical eye over, although I mist admit to having several doubts about the validity of a book on the band by Chris Welch, after reading several of his horrendous pieces in that now defunct publicationm, "Rock World". Still, here are Jack's thoughts on the matter... AH.
If you have been thinking about picking up Chris Welch's new book, I have one word, with contraction, of advice: DON'T. This little book, approximately the size of a CD jewel box, and 134 pages long, published by Omnibus Press in the UK, is a song by song review of every Genesis album with abbreviated treatment of solo work. It is so full of errors that its judgements are undermined and it ultimately appears to be a rushed attempt to cash in on the hype that would have accompanied the release of the first Genesis Box Set which was originally scheduled to be out this autumn. Standing alone, this book is a naked failure.
Chris Welch has been writing about Genesis for many years now and he obviously knows a lot about the music and the history of the band. Many of his observations are quite insightful and his musical ear and writing skill allow him to come up with some very accurate descriptions, most notably here in the case of "Seconds Out". Contrary to the opinions of many Genesis fans, I have mixed feelings about this album. For example, I have always thought that some of the songs like "Supper's Ready" and "The Lamb..." sound weirdly forced and uninspired. Welch shares my view here, and he does a good job of explaining it in the book.
The problem is that Welch makes so many stupid mistakes in this book that it appears that (a) He did not write the whole thing himself, (b) He did not read it before it was published, (c) the underlying factual statements were not checked for accuracy and (d) the entire project was done over one lunch hour, which might explain (a), (b) and (c).
Here are the two best examples of mistakes... On page 33, "More Fool Me" is described as a song in which "Phil Collins makes his vocal debut". Genesis fans know otherwise, even if we assume he means lead vocals. So might Welch, since on page 16 in the description of "For Absent Friends" the writer states "This is a pleasing interlude in which Phil Collins makes a distinguished vocal debut". The other boner among the errors in the book is Welch's misreading of the slightly confusing liner notes on "Seconds Out". Welch credits Phil Collins with keyboard solos during "The Cinema Show" and "Robbery, Assault & Battery". The liner notes actually state that Phil actually played drums during the keyboard solos on these songs, which as any sentient being at a Genesis show would know, were performed by Tony Banks.
Welch's error is compounded by his know-it-all tone, as he states regarding "Robbery, Assault & Battery" that "the quirky keyboard solo is all Phil". What could possibly lead a person to think that Phil Collins could play that solo? Perhaps the "Everyday" solo which sounds like a two year old on a $10 Casio keyboard? These and other errors undercut the credibility of the entire book.
While solo work is given abbreviated treatment, the description of Collins' and Rutherford's work gush with praise, although he does not manage to get the title of Collins' most recent album correct, calling it "Both Sides Of The Story", rather than simply "Both Sides". Each members' albums are listed and some are discussed briefly in text. The omission of "Passion" from Peter Gabriel's list of solo works (he included "Birdy", so what is the excuse?) and "Soundtracks", "The Wicked Lady" and "Still" from Tony Banks's list (and the erroneous listing of "Banks Statement") indicate a serious lack of care and editorial checking. On a more substantive note, one cannot make even a brief assessment of Tony Banks' career without considering the great songs on "Still", and the songs and instrumentals from his "Soundtracks" work.
Welch's finest moments in this book are his ability to single out and highlight the commercial strengths of Genesis' catalogue. His unrelenting attacks on "The Lamb..." for some Genesis' finest hour, but for critics, the bottom of the barrel, was a bit too much to take. But Welch is obviously a Genesis fan and much of his critique is well placed. However the book taken as a whole reads as if I was written as a demonstration of a speed writing course, out just in time to take advantage of the intended release of the first Box (is it "Boxed"?) set.
My bottom line - save for the Boxed set, buy a re-mastered disc, or better yet, hope for a new book from Armando Gallo!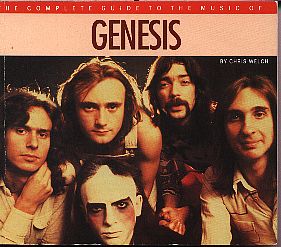 Thanks for your views, Jack. I will be interested to hear what any of the other readers of the book have to say and I will bear in mind your comments as I continue my own work on my very own Genesis "book" project - Alan H.