"The Giants Dance" - the new album by David Thomas and Ronnie Gunn. Review by Alan Hewitt.
Another archival album, this time from two of Anthony Phillips' long standing friends, David Thomas and Ronnie Gunn. Many Genesis fans may be familiar with David, he was, after all, the guy whose flat Tony Banks and Peter Gabriel shared for almost five years, as well as assisting on their first album, "From Genesis To Revelation". The album draws on material which the two main protagonists wrote in the period between 1969 and 1978, and as such is very much a product of its time as well as being an intriguing snapshot into an ear of music that has been undeservedly maligned by the smart set who sadly dominate our music industry these days.
Don't let the Genesis tag fool you, however. This album is not a "Collection of Antiques & Curios" to paraphrase another well known album of the period. Instead, the music ranges across the spectrum from the rhythmically elegiac tribute to the age of steam in the opening track, "Great Western", and the beautiful piano based "Somewhere Upon The Way" and the beautiful sounds of a polymoog (remember them?) on "A Minor Epic", which fans of vintage Genesis will love.
Another highlight is the blues style playing of one Anthony Phillips on "Coolly I Love You". Another highlight is the truly wonderful elegiac beauty of "Memoriam", a magnificently bitter-sweet piano instrumental which along with the other tracks on this album begs the question, why has it taken so long for this music to be made available?
There are many fascinating echoes of a golden era on this album, including the wryly humorous lament for pre-decimalisation Britain of "Bring Back The Old Money", as well as the music itself which is rooted in the early seventies and that is no bad thing. In fact, it does us good to remember the period when lyricism and musicality were not the dirty words that they seem to be today.
Accompanying David and Ronnie are a host of equally talented musicians including our very own Anthony Phillips, Jeremy Ensor (later to form Principle Edwards Magic Theatre) and a very young Martin Robertson. As an album of music, this will endear itself to Genesis fans for the all too obvious connections to the early band. However, there is much more of worth than the associations and to my jaded senses; this album came as a welcome breath of fresh air, helped in no small measure by he accompanying booklet including sleeve notes by Tony Banks and Peter Gabriel, and several previously unseen photographs spanning the period of the album's conception.
Highly recommended to fans who like a little more to their music than our present day chart fodder.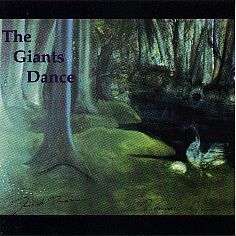 The Giants Dance Blueprint Records BP223CD