"They really got a hold on me" - Mike & The Mechanics in concert at the Royal Concert Hall Glasgow. Review by Esther Leitch.
Until recently, I knew next to nothing about the Mechanics. Songs like "Over My Shoulder", "Living Years" and "Beggar On A Beach Of Gold" certainly registered even before the band's name did. On the strength of "Beggar..." I eventually bought the album and liked it a lot, which in turn motivated me to buy tickets for their Glasgow concert in March 1996.
I really had no idea what to expect, I don't even have a background in Genesis (sorry!) - not a conscious one anyway, though I tend to recognise the band's major hits, as anyone would in my age group [Oh, and what age group is that exactly, Esther? - AH].
The gig was at our relatively new Royal Concert Hall which is mostly home to the Royal Scottish National Orchestra, and a venue about which it is kind of understood that no one is going to be at all misbehaving themselves! I have felt before that that does not make it an easy place in which to perform for any band because, unless I am severely mistaken, people are just that little bit inhibited from letting their hair down as much as they would normally.
I believe that the hall holds about 2,500 people, and it was clearly sold out on the night. On the way in I noticed the audience was at least 50:50 in ratio male to female, if not male dominated. All age groups were present, but the dominant average age was around 40ish. I read the programme and learned another few things, imagine being able to say that you never get writer's block! (Mike Rutherford). You can just hear the collective groan going up from others in the creative world who do! [You're not kidding Esther - AH]. And it's obviously true - great! What terrific ongoing collaboration too, with BA Robertson and Chris Neil. And there is Paul Carrack with his own album out and yes, I remember the name Sad Café. This could be really good, I thought.
Well, it was better than that wasn't it? In Glaswegian, it was "Pure dead brilliant!" Occasionally my friend would say "Behave yourself!" but of course, she was totally switched on herself. She had had a rotten day (week/month) at the office. At the end of the night she just sighed and said "Just what the doctor ordered!"
Oh yes, I liked them from the beginning. As they probably did everywhere, they opened without Paul Young, who then came on just marginally more potent than dynamite to take it well away with "Seeing Is Believing" (why had nobody told me about him before???) and it just kept going. All of it was memorable but several moments stand out. There was the medley of golden oldies, every one of which got a huge cheer from the crowd. There was the fact that the four Scottish gigs took place in the days immediately following the Dunblane tragedy, and it was possible to hear a pin drop at the concert, than that is what you would have said at the atmosphere in the hall during "Somebody Always Hates Someone" - breathtaking it was. There was the moment in which Paul Carrack introduced his solo album and looked a little surprised, as well as pleased, when he got an especially warm cheer from a particular corner of the hall - obviously his own personal fanclub were there, too?
I would love to know how the evening felt to the band, and whether it took more of an effort to liberate the audience in the concert hall. Certainly Paul Young worked his magic on the crowd to perfection; and in singing along with him, it was clear he had got us in the palm of his hand. So, I am glad to say Glasgow at least lived up to its musical reputation! I remember him also getting us to wave our arms about east, west, north and south during "Word Of Mouth" while I dimly wondered whether we were actually pointing in the right directions - as if it mattered! What a laugh!
It was all over far too soon. You have to think of how it must be for the band (and crew) to be on the road night after night giving it their all, and I have been at shorter concerts than the hour and almost forty minutes this one lasted; but it felt short, no doubt because it was so good. In fairness, it was not expensive relatively speaking, though I would have gladly paid twice as much to see them for longer.
There was not an unhappy face in sight at the end of the night! And the buzz stayed with me and others I spoke to all week and beyond. What more could one say? Perhaps only that if and when they tour again (please) I feel like taking a week's holiday and going to all the nearest venues I can possibly reach (well, who said you have to be sane?)... Thanks guys! You did a great job and we loved it!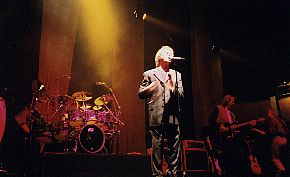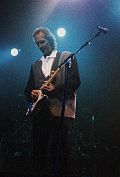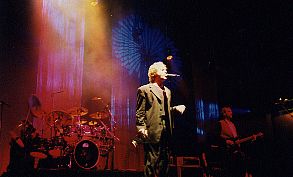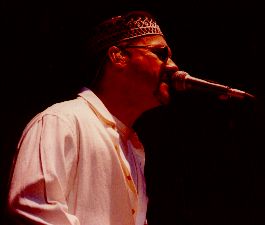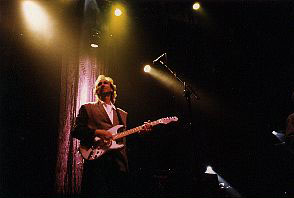 Mike And The Mechanics On Stage
Pictures courtesy of J. Guntrip/TWR and A. Perry/TWR