"Tomorrow Never Knows " - The Phil Collins Story, Part One. Narrated by Alan Hewitt.
Where does one begin to relate the amazing success story that is Phil Collins? For the purpose of this feature, I have opted to cover Phil's extra-curricular activities since his first solo outing in 1980...
For longstanding Genesis fans, the announcement that in late 1980, their favourite singer and drummer was to go it alone was quite a surprise, and also the cause of some speculation. In the world of rock music at that time "solo project" was equated with a split in a rock band's ranks. Genesis however, as we all know, do not conform to such norms and Phil's decision was based on a desire to stretch himself into other areas of music which were not covered by Genesis.

Just how different those areas were to be was soon displayed with the release in December 1980 of Phil's first proper solo release, the now famous "In The Air Tonight" which gained Phil an eager and attentive audience not necessarily drawn from Genesis fans alone. His decision to release his work on the Virgin Records label had been proven right, many new fans were prepared to listen to this - to them new artists - and were pleasantly surprised. They must have been, because the record eventually made it to the number three slot in the UK charts, being kept off the number one by Ultravox and Joe Dolce (where is he now?). The single was the first of a growing number of collectable records to be released by Phil, appearing as it did in two 7" vinyl formats, one containing an amusing cartoon booklet examining Phil's career and designed by his brother Clive - a record which now commands a high price to collectors.
Phil's first solo album, "Face Value", was released in February 1981 and achieved number one status in the UK and most other territories. For a first album, this record was extremely strong, including the high drama of "In The Air Tonight" to the wryly commercial "I Missed Again", and a nod of respect to one of Phil's heroes in the cover of The Beatles' "Tomorrow Never Knows". The break up of Phil's first marriage had given him the impetus and opportunity to write more material than ever before, and the great strengths of the album were to be found both in its honest approach to the music, always a prime indicator of Phil's music, and to the variety of the music itself.
A further two singles were issued from the album. The first of these being "I Missed Again", which was released on March 27, 1981, and "If Leaving Me Is Easy" which was released on May 6, 1981 - once again as a limited and ordinary edition . The limited edition contained a poster of a rather inebriated looking Phil and both versions contained the demos of the A-sides to all three singles from the album. Surprisingly, neither of these releases gained anywhere near as high a chart position as the lead single but both "I Missed Again" and "If Leaving Me Is Easy" charted sufficiently high to merit appearances by Phil on the BBC's "Top Of The Pops" programme.
With a chart topping album, and a successful series of singles under his belt, many were surprised that Phil did not take the album out on tour. However, his commitment to Genesis, who were by now ensconced in the studio for the recording for the "Abacab" album, the follow-up to 1980's highly successful "Duke", meant that there wasn't enough time to fit in both - a situation which Phil was to rectify on his next outing.

Phil's second solo album consolidated his position as one of the most popular male artists in the UK, and also demonstrated his willingness to explore areas most other artists tended to shy away from. How many people can you think of that would release a single about a peeping tom, but that is exactly what Phil did! The inaugural release from Phil's second album "Hello, I Must Be Going" was titled "Thru These Walls", and the accompanying video included sequences of Phil acting out the role of the character portrayed in the song.

The track was a dramatic one and set the tone for several others on later albums. Once again, the album entered the charts in the top ten both here and overseas. But it was to be the second single from the album which was to garner fresh plaudits for Mr Collins. The Motown classic, "You Can't Hurry Love", already a firm favourite on radio stations elsewhere, was to become Phil's first number one single including a hilarious take-off of the Temptations with Phil playing all of the parts!
A third and fourth single were also released from the album later in 1982 and again, failed to capture the success of the first two, maybe because of the fact that there was no new material included on their respective B-sides. The momentum now continued to build as Phil prepared for his first solo tour after the highly successful jaunt with Genesis to promote the "Three Sides Live" album through the UK, Europe and the USA during August and September 1982.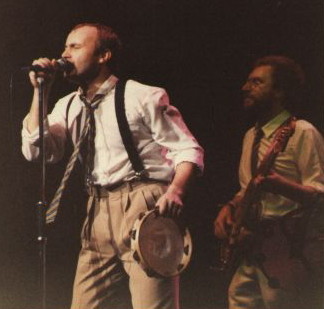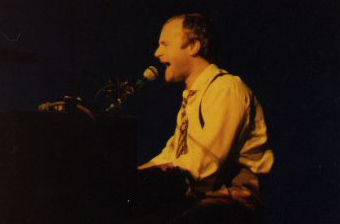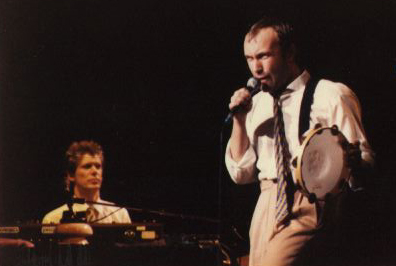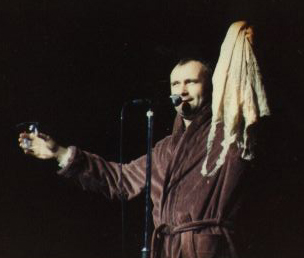 Phil on-stage during his first solo tour
Pictures courtesy of T. Sayers/TWR
Phil's first solo show took place in Holland at Den Haag on November 21, and right from the first night it became apparent that there was more to Mr Philip Collins than Genesis alone. The show drew from both of Phil's solo albums, as well as a few covers and even the brilliant "And So To F..." by Phil's other band, Brand X, and a superb rendition of the Gospel classic, "People Get Ready". On tour Phil was accompanied by Genesis slatwarts Daryl Stuermer and Chester Thompson as well as Peter Robinson from Brand X and the horn section from Earth, Wind And Fire. The show was a mixture of high drama and low comedy with highlights including "In The Air Tonight", now destined as a firm love favourite, and the funkified version of Genesis' "Behind The Lines".
The set list ran as follows:
I Don't Care Anymore / Thunder and Lightning / I Cannot Believe It's True / This Must Be Love / Thru These Walls / I Missed Again / Behind The Lines / You Know What I Mean / The Roof Is Leaking / Don't Let Him Steal Your Heart Away / The West Side / If Leaving Me Is Easy / In The Air Tonight / Like China / You Can't Hurry Love / It Don't Matter To Me / Hand In Hand / And So To F... / Why Can't It Wait 'Til Morning? / People Get Ready
Phil Collins World Tour Dates 1982/83
Concertgebouow, Den Haag, Holland
21.11.82
Olympia Theatre, Paris, France
22.11.82
Jahrhunderthalle, Frankfurt, Germany
23.11.82
Congresshalle, Hamburg, Germany
25.11.82
Vorst Nationale, Brussels, Belgium
26.11.82
Hammersmith Odeon (2 shows), London, England
28.11.82
Hammersmith Odeon, London, England
29.11.82
Hammersmith Odeon, London, England
30.11.82
Hammersmith Odeon, London, England
1.12.82
Maple Leaf Gardens, Toronto, Canada
6.12.82
Ritz Theatre, New York NY, USA
7.12.82
Palladium Theatre, New York NY, USA
8.12.82
Tower Theatre Upper, Darby PA, USA
9-10.12.82
Holiday Star Theatre, Merriville IL, USA
12.12.82
Auditorium Theatre, Chicago IL, USA
13.12.82
Berkeley Community Theatre, San Francisco CA, USA
16.12.82
Universal Amphitheatre, Los Angeles CA, USA
17-18.12.82
The Roxy, Hollywood CA, USA
19.12.82
Music Hall, Houston TX, USA
21-22.1.83
Perkins Palace, Pasadena CA USA
23.1.83
Tarrant County Centre, Fort Worth TX, USA
24.1.83
Brady Theatre, Tulsa TX, USA
25.1.83
Memorial Auditorium, Kansas City KS, USA
26.1.83
University of Illinois, Normal IL, USA
28.1.83
University of Indiana, Bloomington IL, USA
29.1.83
Cincinnatti Gardens, Cincinnatti MO, USA
30.1.83
University of Minnesota, Minneapolis MO, USA
2.2.83
Milwaukee Auditorium, Milwaukee WI, USA
3.2.83
Wings Stadium, Kalamazoo WI, USA
4.2.83
University of Michigan, Ann Arbor MI, USA
5.2.83
Richfield Coliseum, Cleveland PA, USA
7.2.83
Civic Arena, Pittsburgh PA, USA
8.2.83
Rochester Community War Memorial, Rochester NY, USA
10.2.83
War Memorial, Syracuse NY, USA
12.2.83
University Park, Penn State University PA, USA
13.2.83
Stabler Arena, Allentown PA, USA
14.2.83
Forum, Montreal, Canada
15-16.2.83
University of Massachussetts, Amherst MA, USA
17.2.83
Orpheum Theatre, Boston MA, USA
18.2.83
Warner Theatre, Washington DC, USA
24.2.83
Following a tour which took Phil back to the USA in early 1983, it was back to a tour of duty with Genesis for the remainder of 1983 and into the early part of 1984, although Phil did still find time to compose a song for the Taylor Hackford film, "Against All Odds" which, when released on March 1, 1984, gained Phil another top ten chart entry. As if that wasn't enough, Phil also completed a tour of drumming duty with his long time friend Robert Plant when the latter undertook a US tour for his new album, "The Principle Of Moments".
Robert Plant "Principle Of Moments" US Tour Dates 1983
Civic Centre, Peoria IL, USA
26.8.83
Wings Auditorium, Kalamazoo MI, USA
27.8.83
Rosemont Horizon, Chicago IL, USA
29.8.83
Kiel Auditorium, St Louis MO, USA
30.8.83
Civic Arena, Milwaukee WI, USA
31.8.83
Joe Louis Arena, Detroit IL, USA
3.9.83
Richfield Coliseum, Cleveland OH, USA
4.9.83
Reunion Arena, Dallas TX, USA
5.9.83 (?)
Worcester Centrum Centrum, Worcester MD, USA
6.9.83
Forum Montreal, Canada
8.9.83
Buffalo Memorial Auditorium, Buffalo NY, USA
9.9.83
Maple Leaf Gardens, Toronto, Canada
10.9.83
Next time the story will continue, with Phil's highly successful "No Jacket Required" album and tour...