"Fine Tuning for the GTR" - The King Biscuit Flower Hour GTR Live album. Review by Alan Hewitt.
For someone who missed GTR's one and only tour, I was delighted to hear about this release which would certainly help me catch up with what I had missed. The CD contains almost all of the GTR show at the Wiltern Theatre Los Angeles on June 19, 1986 except for the opening solo acoustic sets by both Steves - and as such, it serves as a great memento of that particular period of Steve's career.
The CD is accompanied by a very nice booklet with an extremely informative look at the history of The King Biscuit Flower Hour programme itself (I for one didn't know that the show began broadcasts in 1973!) as well as a brief biography of GTR themselves. The concert itself is also of great significance to collectors of Steve's material for the inclusion of "Prize Fighters"; a song which was to have appeared on the second GTR album along with a snippet of what, a year later, would become "Slot Machine" from the unreleased "Feedback" project.
With no editing or radio DJ interruptions, this disc shows off the combined talents of the band with marvellous versions of "Hackett To Bits", including the wonderful medley of "Spectral Mornings" and "I Know What I Like". There is also acoustic excellence from Steve Howe with a brilliant rendition of "Sketches In The Sun" and the old Yes classic, "Roundabout".
The GTR material itself also stands the test of time very well from the out and out rockers of "Jekyll & Hyde" and their massive hit single "When The Heart Rules The Mind" to slower paced numbers such as "The Hunter". As part of the opening salvo of releases from the archives of this radio show, it is an excellent disc and with the thought that there are many other Genesis-related goodies in their archives; I hope that there will be more to come!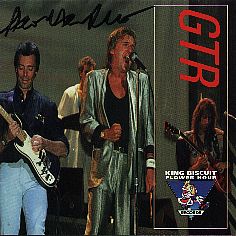 The King Biscuit GTR cover design