"Perfect Pitch in Pompey" - Mike & The Mechanics live at the Portsmouth Guildhall, Monday March 4, 1996 reviewed by Mandy Rudland.
I had to write and tell you about the Mechanics concert at Portsmouth Guildhall. The stage was about three feet away; I couldn't believe my luck! Thanks must go to TWR for the early release of the concert dates. I never thought I would be this close to the band, and what a band they were! Maybe it was because I was so close, but I rather doubt that.
They started off with "Silent Running" and went straight into "Seeing Is Believing". A few words from Mike followed and then on to "Get Up" and "Beggar On A Beach of Gold". "Someone Always Hates Someone", "Don't" and "Plain & Simple" led to a few more words from Mike and then "Another Cup Of Coffee", which I think always sounds better live than on record. We then had a treat when Paul Carrack sang "Eyes Of Blue" from his "Blue Views" album and although he said that he had a cold, I think it sounded fine and led into a neat lead into "Nobody's Perfect" which Paul Young sang with so much power. I have always preferred Paul Carrack slightly, but after such a stirring performance, they both really do deserve equal praise.
We then had the individual songs from previous bands; or in Mike's case "resting" bands; in the form of "Every Day Hurts" from Paul Young; "How Long?" From Paul Carrack, and of course; "I Can't Dance" from Mike Rutherford. It was now time to introduce the other band members. Everyone cheered but it seemed that they had been cheering all evening! Gary Wallis on drums and Tim Renwick on guitars and bass did a great job, on loan from Pink Floyd.
We then had "The Living Years" and "All I Need Is A Miracle" which saw the band exit to thunderous applause and to return a short time later to play "Word Of Mouth" and close the show with "Over My Shoulder". It really was a great evening especially when Gary Wallis threw his drumstick into the crowd and I caught it! [Careful, that'll have your eye out - TWR Safety Ed.]
Although the show was similar to last year's I really enjoyed this one more, and I just want to thank TWR again - I couldn't have done it without you!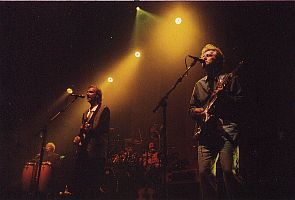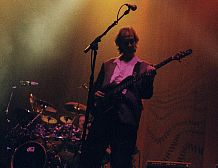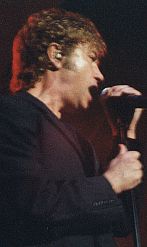 The Mechanics on stage in Portsmouth
Pictures courtesy of Jon "Armando" Guntrip/TWR