"Motoring With The Mechanics" - A personal view of the Mike & The Mechanics tour by Osman el Gothamy.
As we all know, the recent Mike & The Mechanics tour has now ended. I went to six shows in all, but was disappointed by the repetition of the same set time after time (although "Web Of Lies" was added at the second show in Nottingham). However, saying that, I immensely enjoyed the tour, no matter what the set list (what true fan wouldn't?!). During the gigs I got to talk to the band a few times.
My third gig of the tour took me to Wolverhampton where I met Alan our esteemed editor [no; it wasn't me; it was some other maniac - AH.], and several other fans for a few drinks before the show and for a chat about all things Genesis.
During the tour I had grown to like their energetic support band, Blessed Union Of Souls, and from the audience reactions I wasn't the only one. The Mechanics invariably came on stage to an almighty roar from the crowd opening with "Silent Running"; a perfect set opener allowing the band to ease into their respective roles. Paul Carrack's vocals kept perfect harmony. The tempo was increased dramatically with "Seeing Is Believing" with Paul Young putting a great effort into the song.
The shows continued with the usual professional performance normally associated with the band. However, there was a surprise or two. "Eyes of Blue" from Paul Carrack's solo album being one of them. By the time "I Can't Dance" was playing, the audience usually wanted to stand up and at four of the six shows I went to, they did exactly that. "Living Years" calmed the crowd down but they remained standing from the new "All I Need Is A Miracle '96" until the end of the shows.
"Over My Shoulder" and "Word Of Mouth" served as encores, the latter being much better suited to that position than its middle-order position in 1995. It was with sadness that I attended my last show of the tour in Leicester but I have memories aplenty to cherish until next time!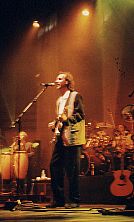 Mike Rutherford on stage
Picture courtesy of Jon "Armando" Guntrip/TWR