Sadly this duet was then repeated at Phil's concert but it must be said that it was the only downside to a really great performance where Phil and the band played superbly even though this was only the second show of the tour. I am not going to describe the show song by song since the set was basically the same as the US tour, although there was no room for "Loco In Acapulco" or "It's In Your Eyes". Instead, I will just outline the highlights...

The opening was great, with Phil coming down across the auditorium among the crowd with his vocalese introduction to "Hand In Hand" and then playing a marvellous drum solo. The band are absolutely superb and maybe it is a pity that Phil does not always fully exploit their collective talents. Amy Keys, for example, has a marvellous voice, which should certainly be used more fully.

As always, in his concerts, Phil's hits notwithstanding, gave plenty of room to musical arrangements and among the magical moments of the night I have particular fondness for the acoustic version of "Long, Long Way To Go", the tribal "River So Wide" and "Lorenzo"; the powerful "In The Air Tonight" without which no concert by Phil would be complete; and the finale which was so full of percussive power.

The stage set up was excellent, although I am not so keen on the round stage but at the end of a two and a half hours of excellent music, I saw no sad faces in the audience, and certainly look forward to seeing Phil again whenever he next tours in Italy.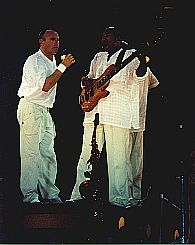 Phil with Nathan East at the Filaforum
(Photo - M. Giammetti)