AP: Both of them? Heathrow was windy! (Laughs) it was fun. I mean, Heathrow was a sort of breezy experience really because I had made it clear that I had to get back because I was desperately trying to get on with these piano pieces recorded before I went on holiday so I wanted to check out by lunch time. And basically it was a case of going from room to room doing all these interviews and suddenly we were all in this room together with John Silver and all these... and photos were being taken and it was surreal. Pleasant but surreal and everyone was cracking jokes. I wouldn't say it was tense; but it wasn't exactly relaxed and you wouldn't expect it to be either, it was surprisingly cordial if you like.
The dinner was great; I think each person had their own favourites who they wanted to catch up with and have the chance to talk to properly. I mean, for me Chris Stewart who I hadn't seen in 25 years and he was a very close friend of mine at school - just because we were the same age, whereas I wasn't with some of the others and we did an awful lot of things together so that was great and it was very nice and we decided to do the concerts as well! (laughter).
TWR: Yes, of course, if the time and the idea was mooted, of a get together, either for a show or maybe for a series of shows, for a charity and they approached you to do it. Would you actually consider playing with the guys on stage?
AP: It depends on the situation frankly. I couldn't give you a blank yes or no. I think to get an equivalent from me you would have to ask Chris or John Silver because I have never done anything remotely on the level that Steve did, and it has obviously been well chronicled that my main reason for leaving the band was not doing live work so... obviously it would be a much different situation for me to look at than for Steve but I think if there was a specific charity involved; if there was charitable status, then it would make me think again. I don't think it would happen while the current band are still going. I could imagine the others who played together MIGHT do it but I doubt it somehow.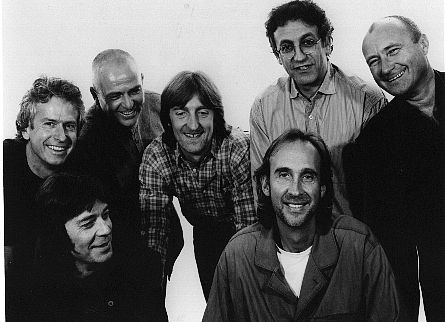 Tony, Steve, Pete, Ant, Mike, John, Phil -
"Anyone remember the chords to 'The Conqueror'?"