"Marching to the promised land" - An account of the Genesis Weekend at The Limelight Club in Crewe by Tony Burton.
The most tiring week of the year so far: a journal of the events running up to and including the Genesis weekend at The Limelight Club in Crewe, as observed by the TWR web editor and Invisible Touch bassist.
Tuesday, April 2 - The Phone Call
As you may be aware, the Genesis tribute band of which I am the bass player, Invisible Touch, is looking for a new keyboard player and drummer, to replace the recently departed Richard and Phil. Today, myself and Singer Dave set out on the road to meet with Mark, a very enthusiastic potential keyboard player. As we talk about gigs, songs, set lists, equipment and groupies, Dave's phone rings. As he has just inherited this mobile from his wife, and doesn't recognise the number, he presses the "not today thanks" button, sending the caller off to an abyss of voice-mail somewhere. Seconds later, Dave receives a text message on his phone, from his wife. "Whatever you do" it says, "if the phone rings, answer it".
"Oh dear. I wonder who that was", shrugs Dave. I decide to call Dave's wife, leaving his phone unengaged in case the caller wants to try again. "Hi, it's Tony - what's going on?" I ask. "Welllll...." she says. "I've just had Anthony Phillips on the phone. I gave him your number and Dave's number". I gulp.
"Dave," I say. "You've just hung up on Ant Phillips". Much wailing and gnashing of teeth ensues. Moments later, my mobile phone rings. "Hello...?" I nervously venture. "Oh hello," the voice says, "is that Tony Burton?" In my best John Inman "menswear" voice I says "Speaking... would that be Mr. Phillips?". The voice laughs "Yes it is! And no need to be so formal!"
In a late-breaking development concerning the Genesis Weekend Convention at the The Limelight Club in Crewe, Ant had agreed to donate one of his guitars to the charity auction on the Sunday afternoon of the event. He had a favour to ask of me - could I go round to his house to pick up the guitar, and take it up to Crewe with me? I thought about this for about 0.3 seconds, then agreed to turn up between 8 and 9pm the following day.
The phone call over, I turn back to Dave and Mark. Mark is looking slightly nonplussed and agog. "Happens all the time", I shrug.
Wednesday, April 3 - The Pick Up
Slightly ruffled after a hurried dash around my local Sainsbury's, I head up to Ant's house. Ant lets me in, and we have a brief chat about all kinds of things. For example, he asked what the earliest songs are that Invisible Touch perform. I said "well, stuff like 'The Knife', part of 'The Musical Box', 'White Mountain'..." At the sound of all these songs with which he was involved, he perks up a bit, asking if we do anything from "From Genesis To Revelation" or the material that appeared on the first Genesis Archive Box Set. "Well," I venture, "I've been pushing the band towards including 'The Conqueror' in the set, but they're slightly reluctant". "I'm not surprised" he says, "it's crap!"
Somewhat deflated, I steer conversation around to The Guitar. It's an old old 12-string, and apparently saw a fair bit of action in the early days in the hands of both Ant himself and Mike Rutherford. The Guitar is of unspecified make, and has obviously seen a small amount of action in it's thirty-year plus lifetime. However, it sounds fantastic. As soon as I get it home and tune it up, I'm picking and strumming away to "Lover's Leap", "White Mountain", and yes, "The Conqueror". Before too long, all the acoustic guitar songs I've got stored away up in my head come out: songs by Led Zep, Rush, Greg Lake, and even (prog purists may like to avert their eyes at this point) Extreme. All sound fantastic. I decide that I will drive to Crewe very very carefully.
Thursday, April 4 - The Day Of Rest
Nothing much of interest happened. Packed bags for Friday, practiced the tricky songs for Sunday night's gig.
Friday, April 5 - The Arrival
Crewe is what I like to call a very long way away. Pretty much spot on 200 miles from Prog Bass Towers, SW17, it's a journey that should not be approached lightly. Luckily, my sister lives at about the half-way mark, and was prepared to entertain me for lunch. Over a cup of tea in her back garden, I realise that my nephew, who is nearly 3 years old, would never forgive me if he found out later in life that I had Ant Phillips' guitar with me, and never demonstrated it to him. So, in an effort to teach him what 7/8 sounds like, I perform a slightly amateur rendition of "The Cinema Show" arranged for solo 12-string guitar. He'll thank me later in life. Satisfied that my duties as an Uncle are complete, I continue the trek to Crewe.
Where the M5 and the M6 motorways join, I was allowed to rest my weary accelerator foot by crawling along for several miles. I eventually roll up at the Crewe Travel Inn at about 5pm, to be greeted almost immediately by Michelle, who I first met during drummer Phil's drumathon in November, 2001. Michelle and I share a special relationship, which started when she dropped my pristine 1975 Rickenbacker 4001 bass down half a dozen steps at the Limelight Club last November. Revenge will be mine, oh yes. One day.
Shell was enjoying a drink in the bar with Steve, who I had similarly met during the drumathon, and fellow Genesis fanatic Eamonn, who, it happens, was brave enough to come and see Invisible Touch at the Regency Club in Rugby - he must have been in the area with nothing else to do, I guess. I down a welcome bottle of cold lager with them, before sprucing myself up for the evening. I head out into the bustling metropolis that is Crewe on a Friday night, and meet with IT Manager Ken for a curry, before heading back to the venue to meet with the others. This proves somewhat tricky after eating possibly the world's largest Chicken Shaslick (no tittering at the back please) and the tastiest paratha.
Later that same night, Ray Wilson appears on stage along with his brother on guitar, and a backing vocalist whose name now criminally escapes me. I saw Ray play at the Half Moon in Putney some time last year - he was good then, but this was better - mostly because he played "Ripples". He played a wide selection of songs from his many bands, including a generous helping of Genesis numbers - "The Lamb Lies Down On Broadway", "Mama", "No Son Of Mine" to name a few. "Shipwrecked" deserves special mention, mostly due to the keyboard parts being sung, quite badly, by the audience - in fact so poorly that Ray had to stop due to an attack of the giggles, the poor lad. Other songs included Bruce Springsteen's "The River", Bob Dylan's "Blowin' In The Wind", and Phil Collins' "In The Air Tonight". Sadly no "Biko" this time, a highlight from the Half Moon show.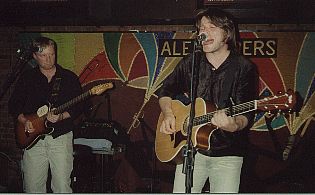 Ray Wilson at Alexanders Club, Chester
(Photo: A Hewitt/TWR)
The show over, the Travel Inn Posse (plus special guest Ken) continue to groove and frug to the delightful sounds of the Limelight Club Rock Disco. Much 80s hair rock passes our ears, and we continue on our merry dance trip, our sense of taste obviously affected somewhat by alcohol. Come 1am we stumble out into the cool Crewe air, to meander our way back to the hotel. However, we manage to meander in totally the wrong direction. Eventually, after singing the hits of The Carpenters and an unintentionally smutty version of "One Finger, One Thumb, Keep Moving", we find a taxi brave enough to take us to our beds.
Saturday, April 6 - The Hangover
I awake safe in the knowledge that I must have had a good time the previous night, due to my thumping headache. Having missed breakfast at the Travel Inn, it is decided to go into Crewe to find a greasy spoon. From there we can easily get to the venue to check out the day's events.
Once safely sat at a table in Rebecca's Cafe in Crewe town centre, Steve, Michelle and I drink tea and eat bacon sandwiches, and gradually begin to feel normal again, as Steve regales us with tales of how Michelle was talking in her sleep. Strengthened by the double whammy of cholesterol and caffeine, we decide a quick mooch around the town centre would do us good. What meets us there is truly a sight to behold - what must be the World's biggest bouncy castle ever. Words cannot describe the awe we were under, so I'll let the photo of the behemoth tell the story.
Next we investigate a shop that would appear to hold endless promise - "What Everyone Wants". Sadly it fails to live up to it's promise, as they are out of stock of the particular brand of 5-string bass that I was after. In fact they were out of pretty much everything we wanted, preferring to stock cheap nonsense instead. I make a mental note to come back here when my wardrobe needs an update. En route back to the venue, we pass an otherwise uninviting pub with an inviting name: The New Burton. I excitedly throw my camera at Steve for him to record this meeting of namesakes.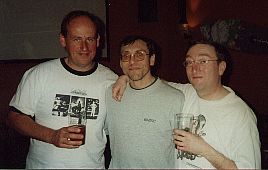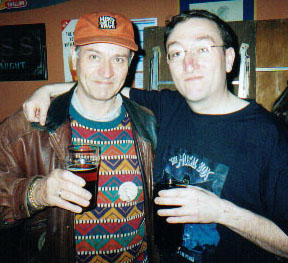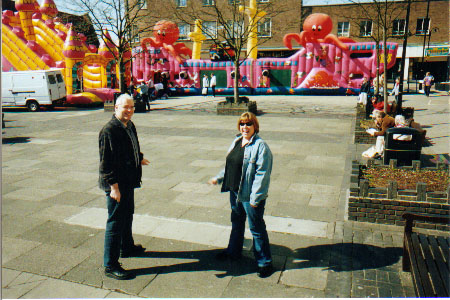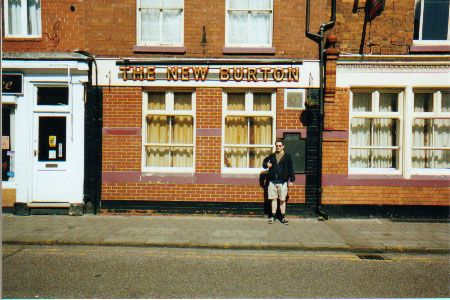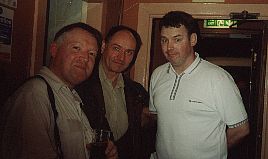 In and Around Crewe, April 11, 2002
Right, enough of this nonsense! We arrive at the venue, to find the upstairs bar in a state of upheaval as stalls are being hurriedly set up. Taking up most of the wall at one end of the bar is a huge video screen, showing old Genesis and related live and rare videos in glorious scratchy, noisy almost-Technicolor and muddy monophonic sound. Despite this, we are instantly transported back to the mid-70s and long for a music centre equipped with an 8-track cartridge player.
Hang on, who's that man in the red hat talking to Alan? Is it be Paul Whitehead? Could be! Armed with the first of many pints of recuperative orange juice and lemonade, I sidle up to Alan and look hopeful for an introduction. Alan eventually twigs and Paul and I have a good chat about all things to do with TWR, Invisible Touch and some of the goodies he's brought along to show off. There's a good selection of prints and lithographs of his top three albums covers - "Trespass", "Nursery Cryme" and "Foxtrot"; also an Absolut Vodka bottle adorned with the Foxtrot fox; and best of all, a fantastic wooden musical box decorated with scenes from the cover of "Nursery Cryme". I ask Paul how much he's selling it for. He says "Let me just work out how much $1,000 is in sterling..." at which point I say I need to be somewhere far away on the other side of the building.
Having checked out the remaining stalls (which didn't take long, to be honest, although one collection of live recordings of various origins holds my attention for a while), two things occupy my plans for the remainder of the afternoon. One of these is sleep, the other is a bit of a brush-up on the trickier numbers for Sunday night's set. Both require me being back at the hotel.
Suitably refreshed and lent confidence by being able to play those tricky numbers better than anticipated, I return to the venue to meet up with Steve, Ken, Michelle and Eamonn for the evening's live performances. First up is Face Value. I've never seen John, Tony and Will do their thing before, only having seen John front Band X last November, at drummer Phil's marathon drum event. So, at least I know he's more than capable in the vocal department. Despite all I have read in all the various internet forums, I was interested to see how these chaps would fare in the absence of a bassist and drummer. The answer was not bad at all. Obviously some of the songs sounded less "live" in the rhythm section than they otherwise would, notably "Home By The Sea" and "Fading Lights" (and of course I am used to playing both of these with IT). But otherwise, Face Value's set is fantastic fun! I remember leaning over to Ken at one point and whining "Ken... they're playing most of our set" - slightly surprisingly, the set is largely Genesis material rather than the Phil Collins material I was expecting. Tony has obviously spent a lot of time honing his keyboard sounds and drum/bass sequences (aided by a literary source that John was more than pleased to explain), and Will's authentic guitar sounds and performance were spot on too. Was that me seen frantically taking notes during "Fading Lights"? High spots of a great set included a terrific version of "Undertow" performed on piano and voice, and an anthemic "Take Me Home" to close the set.
The Face Value set list in full: No Son Of Mine / Land Of Confusion / Tonight, Tonight, Tonight / Many Too Many / Misunderstanding / Home By The Sea - Second Home By The Sea / Jesus He Knows Me / I Can't Dance / In The Air Tonight / Abacab / Afterglow / Undertow / Fading Lights / That's All / Invisible Touch / Mama / Turn It On Again / Take Me Home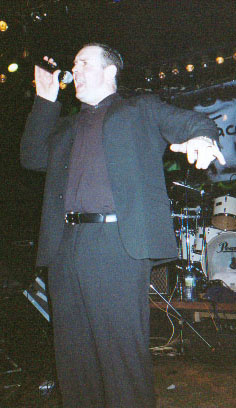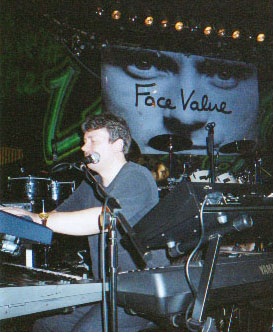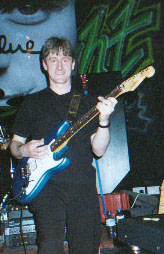 Face Value on stage at The Limelight Club, Crewe, April 11, 2002
After a while taking equipment on and off stage, In The Cage appear to the stirring opening chords of "Watcher Of The Skies". This promised to be an interesting gig, as it was the first time I'd seen ITC since they recruited their new keyboard player, Mark Rae, to replace Piers De Lavison, recently departed to replace Doug Melbourne in ReGenesis. It's all musical chairs round here. Also, the last time I'd seen ITC, they were seriously hampered by an inadequate venue armed with overly sensitive noise limiters and smoke detectors. So, fingers crossed that tonight's set is going to be better. Initially I'm worried - it all sounds a bit odd from where I'm standing. So I move around a bit, and eventually either the sound man or my ears adjust properly and everything falls in to place. Anyway - those opening chords of "Watcher Of The Skies" sound impressively accurate. Another encouraging sign is that Trevor's vocals are much improved as a result of a pair of in-ear monitors. As the set progresses, it appears that In The Cage have improved dramatically over the last year or so. I'm always impressed as well by Richard Whitehead's solid performance - on bass, guitar and pedals. I know how tricky it can be sometimes to juggle bass, 12-string and bass pedal parts in the same song, and Richard manages it all easily, usually with a big grin on his face too. The best bits of a very impressive set: "A Trick Of The Tail", "Eleventh Earl Of Mar", and "The Cinema Show", and of course a "Duke Suite" featuring a superb performance from a mystery guest vocalist during "Turn It On Again". Wait a second - it's Dave Whitehouse! Great fun but how could I forget to mention the thunderflash at the end of "Supper's Ready", where Trevor sheds his black robes to reveal his glowing white shirt and tight white long johns. You can see from the photos where I happened to be standing at the time...
The In The Cage set list in full: Watcher Of The Skies / Behind The Lines / Duchess / Guide Vocal / Turn It On Again / Duke's Travels / Duke's End / Deep In The Motherlode / The Fountain Of Salmacis / A Trick Of The Tail / Eleventh Earl Of Mar / Down And Out / The Cinema Show - Slippermen - Afterglow / Twilight Alehouse / Supper's Ready / Los Endos / The Knife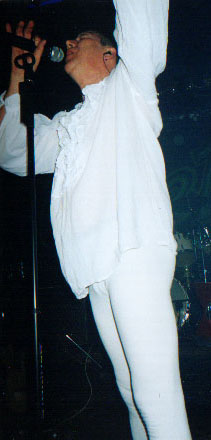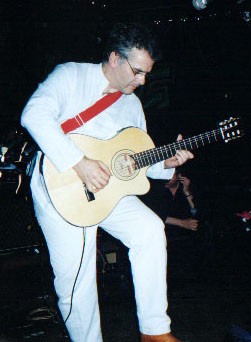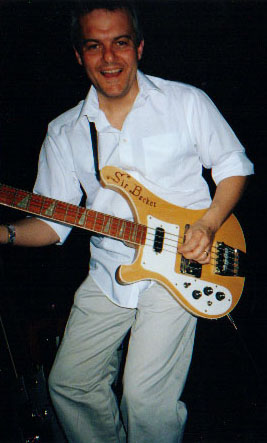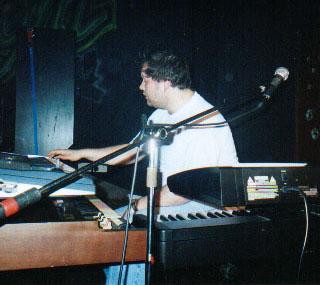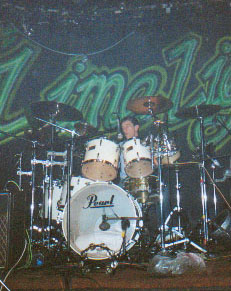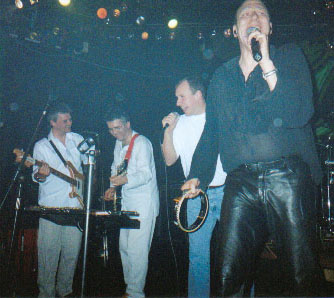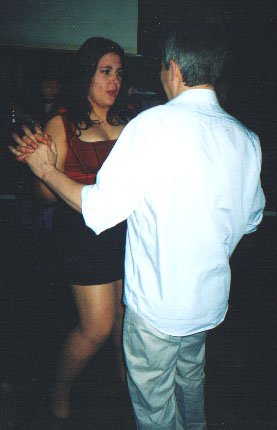 In The Cage on stage at The Limelight Club, Crewe, April 11, 2002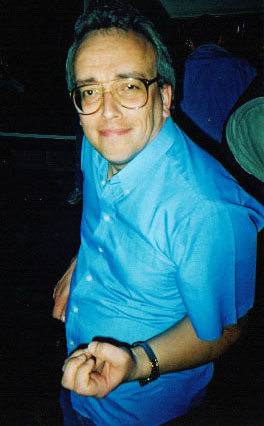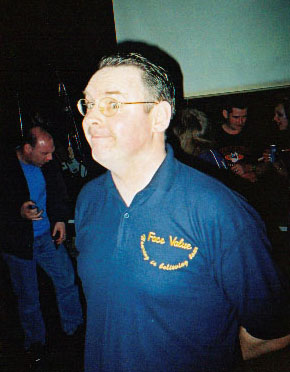 Two of the post-gig party people
As ITC leave the stage, the Limelight Club rock disco starts up again... and another late night begins.
Sunday, April 7 - The Gig
Sunday greets me with a fresh head and a rested body. Either I'm getting used to this northern lager, or I didn't drink as much. Right, it's Sunday - much to do and see today. First of all is the lovely Travel Inn breakfast. Right, that's enough said about that. Next, preparations for the Genesis memorabilia auction get underway. Our auctioneer for this event is to be none other than our intrepid hero Steve, whom Alan has singled out as having a gifted tongue for matters like these. Steve has asked me to do a bit of a turn during the auction on The Guitar, which has been resting in my hotel room all this time. I agree, and hurriedly try to come up with some Genesis-related tunes that I could play on a 12-string acoustic. I decide against the version of "The Cinema Show" that so impressed my nephew only days earlier.
Luckily, Singer Dave is on hand to assist in the vocal department. Sitting out in the sun outside the hotel, the first ditty we agree on is the easy choice - "Lover's Leap" from "Supper's Ready". Apart from that, we're struggling. Both of us are Led Zeppelin fans, so it wasn't hard to rustle up a few of their classics - "That's The Way", "Gallows Pole", "Over The Hills And Far Away" etc., however we soon agree that while they sound fantastic, they're not quite Genesis enough. After a good deal of strumming and head-scratching, we agree on an extract from "Firth Of Fifth" ("The mountain cuts off..." up to "...his symphony"), and a "Tune A Day" strum-along campfire version of "Follow You Follow Me". Bristling with confidence, we head off to the venue.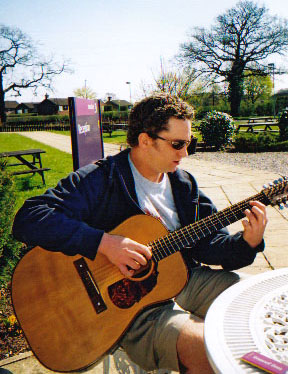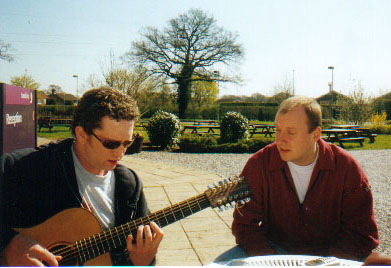 Tony and Dave prepare for The Auction
We get there to find the auction all set up and ready to go. We commandeer two microphones and make a ham-fisted attempt at setting up the portable mixing desk provided for the auction. Just as the auction is about to start, however, a miracle occurs. Guitar Dave, six-string maestro of Invisible Touch, arrives at the venue. I thrust (gently) The Guitar into his hands. He whimpers. "Play them something nice to show off The Guitar" I suggest, helpfully. It takes Dave a few seconds to get used to the lowered tuning of The Guitar (due to the immense tension the neck of the guitar is under due to the extra six strings, acoustic 12-strings are rarely tuned to concert pitch), but before long we are treated to a few acoustic snippets of songs we all know and love, including, of course, "Horizons". Suitably impressed, the auction attendees start the bidding, and The Guitar finds itself a good home for a good price, but only once the eventual buyer has called home to make sure he's allowed to spend the amount he's bid.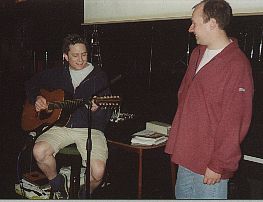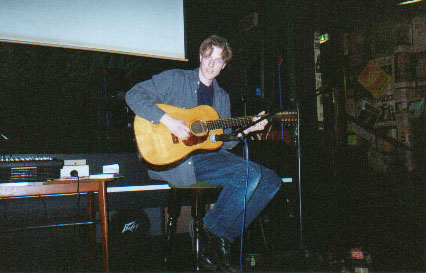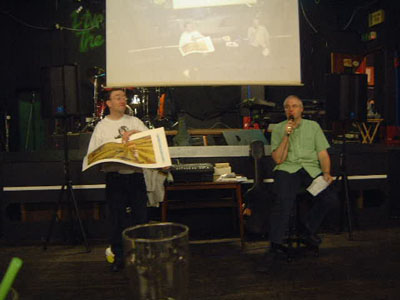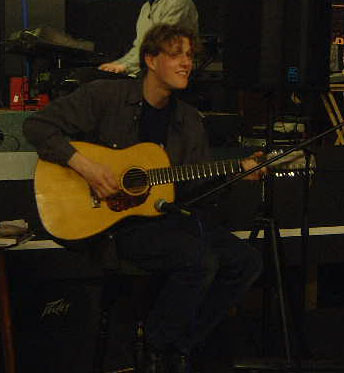 Tony, Dave, Dave, Alan and Steve at The Auction
Once the auction is over, Invisible Touch gets ready to do the sound check. As we're going on last, we sound check first, so that G2 (who are on before us) don't have to move their gear once they've done their sound check. So we set up, and are all ready to go, when we realise we are one important step away from doing a successful sound check - we have no sound man. A quick investigation reveals that he's upstairs in the bar watching Crewe Alexandra play Crystal Palace, and will not be moved until the final whistle sounds. Once full time is upon us, he appears briefly but realises he's forgotten the keys to the cupboard that contains all the microphones and other essentials. Sigh. Once he's reappeared again, with keys, the afternoon is running out, and there are ten slightly anxious band members ready to get cracking. We do the sound check, and quickly clear off so G2 can do theirs.
I retire with Phil and Richard to the best curry house in Crewe, where it appears that it is impossible to finish whatever food they bring, as the portions are so big. Ken and I experienced the same trouble on Friday night. We return to find that despite G2 going on stage 45 minutes late, we've still managed to miss them play cracking versions of "Firth of Fifth", "Squonk" and "Robbery, Assault and Battery". Damn! "Robbery" is one of my favourites, and one I'd been waiting all weekend to see.
The rest of G2's set is as solid and tight as I remember from the last time I saw them play, deep in south west London at the Worcester Park Tavern. We come in somewhere in the middle of "Blood On The Rooftops", the beginning of the "Blood Suite", which consists of most of side 2 of "Wind And Wuthering" (that's tracks six to nine, CD fans). "In That Quiet Earth" is fantastic, and "Afterglow" gives the crowd a good vocal workout. Other gems that follow include "The Cinema Show" and a wonderful rendition of "Entangled".
Then, all too soon, G2 play "Dance On A Volcano" and "Los Endos". This means that it must be nearly time for IT to go do their thing. Oh no, hang on a second - the encore is "Supper's Ready". I breath a sigh of relief, and go pace around somewhere else for another twenty-three minutes or so. So - G2: still great to watch, and when they're good they're fantastic (see "The Blood Suite" for proof).
The G2 set list in full: Squonk / Robbery, Assault And Battery / Firth Of Fifth / Blood On The Rooftops / Unquiet Slumber For The Sleepers / In That Quiet Earth / Afterglow / Entangled / Watcher Of The Skies / The Cinema Show / Dance On A Volcano / Drum Solo / Los Endos / Supper's Ready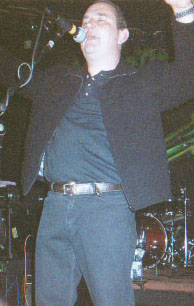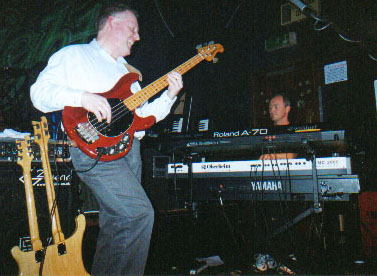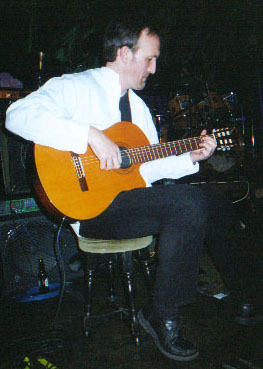 G2 on stage at The Limelight Club, Crewe, April 11, 2002
Right! It's out turn! First of all, we need to get all of G2's gear off, and set up our stuff - in the end, despite everyone's best efforts and co-operation, it takes us an hour. Oops. We end up going on stage ever-so-slightly late, at about 10-30pm. So much for the prompt 9pm kick-off - it's going to be a late night (again...) We start the show with my favourite opener, "Dodo". By the time the "Lurker" section comes round, the song has had its desired effect, as I look out to see a mass of bobbing heads and big stupid grins. As "Abacab" revs up, the cheers, whistles, clapping and enthusiasm suggest that this is going to be a good one. Well, we had a good warm-up band...
The good vibes continue. We continue to perform better than we have done in ages, spurred on by the fantastic crowd. "The Fountain Of Salmacis" rocks (with its fantastic - for bass players - middle section), and the "Fading Lights" instrumental is spot on as well. One of the highlights for me is "One For The Vine" - this is my favourite Genesis song, both to listen to and to play, and this is the first time we've played it for a very long time. I'll never forget the look on Eamonn's face as we play through the lilting, lyrical verses into the quiet middle section before it all goes a bit barmy in the instrumental section. I think he was enjoying it more than me... if possible.
I had a small confession to make to Guitar Dave before the gig. I could sense the evening might turn out to be a special one, and I said to him "I think we're going to rock tonight" - with only a scant trace of irony. "In fact," I continued, "I think we should try to out-do each other in the rock department". And this is why, dear reader, your humble scribe and his guitarist colleague ended up shamelessly playing with one foot each on the monitors - on more than one occasion. It stopped feeling ridiculous after the first or second time, and the crowd seemed to like it too. I'll bear this in mind for future gigs.
Back to the set - the "Cage" medley is a turning point, with its "Apocalypse" ending being one of those spine-tingling moments that keep us doing what we do time after time. Still later, we finish "Invisible Touch" and Singer Dave leaves the stage. The lights go down, the room goes quiet. Richard and Guitar Dave start making quiet, tinkling, scraping noises. As it dawns on the crowd that we're starting "The Waiting Room", the expectancy in the room becomes electric. I hear a couple of gasps from the crowd, an "Oooooh...", and one "Bloody hell..." The slightly barmy improv section gives way to the groove section we know and love, over which Richard plays some fantastic keyboard parts, that Tony Banks himself hinted at in live performances of "The Lamb". The next surprise comes with the segue into the ending of "Watcher Of The Skies", which rocks as much as expected. The final chords have barely vanished into the Crewe night as Richard, Dave, Dave and I retire to the dressing room so that the backbone of Invisible Touch live - drummer Phil - can do her drum solo. We can only hear the very loud bits - which is most of it, really - and we know it's a good one. We come back on stage for "Los Endos" - and there's no need to describe this. Everyone knows it's one of those songs that should never end.
Right - time for some encores, and time for the next surprise of the night, "And So To F", the Brand X instrumental that Phil Collins played live on one of his early solo tours. We've only played this on stage twice before: once at Phil's drumathon on this very stage in November 2001, and again when we had to do a singerless gig at The Brook in Southampton in January. This time we have the advantage of both rehearsal time and lack of first-time nerves, and it turns out to be a great rendition. I always feel playing this song is like falling downstairs and landing on your feet - it's usually hard to predict exactly how it will turn out. It also means I get to play my lovely fretless bass, which can't be a bad thing.
We finish the gig - at close to 1 o'clock on Monday morning - with a selection of our usual encores: "I Know What I Like", "Turn It On Again" and "The Knife". We're surprised that none of the other bands has played "I Know What I Like" all weekend, so we give it the full treatment with a good instrumental section and of course Singer Dave's tambourine solo - not to mention a guest appearance from one John Wilkinson. The majority of the audience have stayed with us late on a school night, and they're still wanting more. A fantastic gig.
The Invisible Touch set list in full: Dodo - Lurker / Abacab / The Fountain Of Salmacis / One For The Vine / Fading Lights / In The Cage - In That Quiet Earth - Apocalypse in 9/8 / Land Of Confusion / Home By The Sea - Second Home By The Sea / Invisible Touch / The Waiting Room - Watcher Of The Skies / Drum Solo - Los Endos / And So To F / I Know What I Like / Turn It On Again / The Knife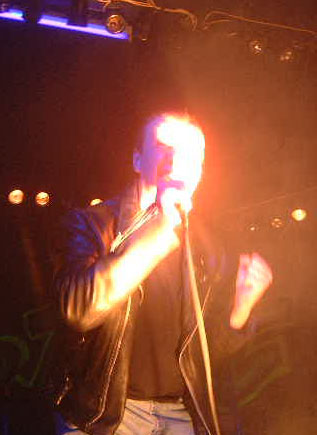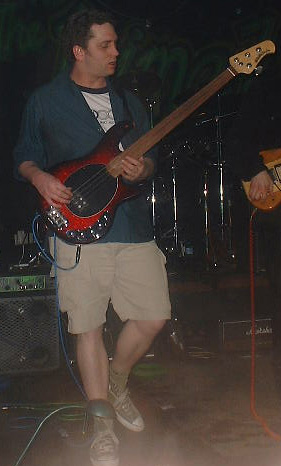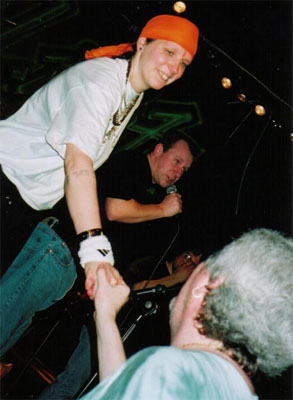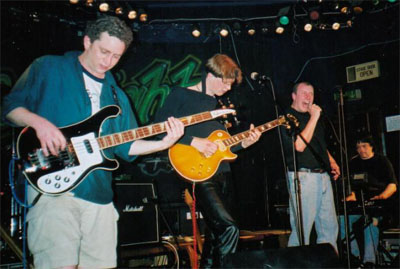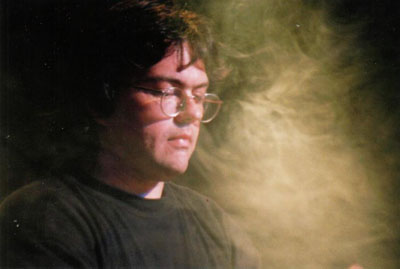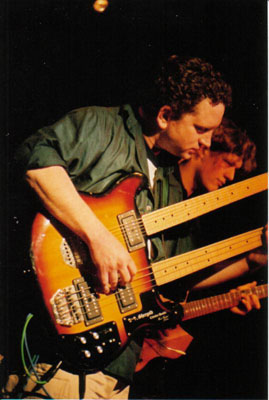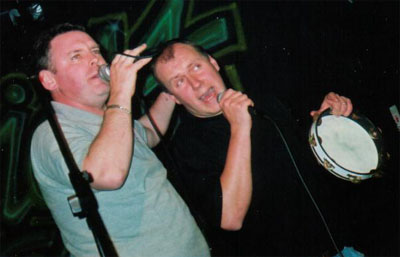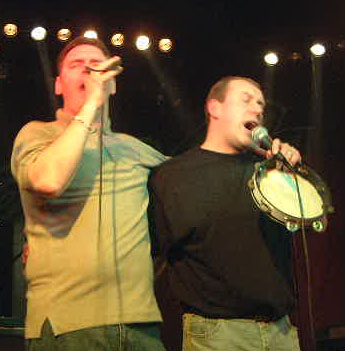 Invisible Touch on stage at The Limelight Club, Crewe, April 11, 2002
Now the hard bit starts: packing up. The Limelight Club provides us with sandwiches and beer, we're happy. I pack up and with the help of roadie for the night Steve, we get back to the hotel and retire to his room to chat and laugh with Eamonn and Michelle into the very wee small hours.
Monday, April 8 - The Epilogue
I end up getting about 4 hours sleep, but the Travel Inn breakfast fortifies us all for our respective journeys home. I drop Steve off at the railway station, and begin the trek back to London - which is over within a little over three hours. The combined tedium of the M6, M5, M42 and M40 allow for reflection on the weekend: time spent with good friends old and new, some great music, a great performance from IT, and a lot of fun. Now all I need is another long weekend to recover from it all.
To all who contributed to the success of the Genesis Weekend - Many Thanks! This includes... Alan Hewitt; Eric Harvey, Ray Bispham and all the staff and crew at The Limelight Club; all the members of all the bands that appeared: G2, In The Cage, Face Value and Ray Wilson - and especially my own lot Richard, Phil, Dave, Dave and superhero Ken; to Steve, Eamonn and Michelle for being such wonderful fun company all weekend; and lastly to everyone who stuck around late on Sunday night to see Invisible Touch, who helped make it such a fantastic gig for us.