"Selling England to the English" - The Musical Box present "Selling England By The Pound". Tour review by Alan Hewitt.
Well, here we go. At last, the UK gets to see the band I have made so much fuss about for the last few years! I honestly never thought they would make it here to the UK and I was delighted when I was informed that this seven date tour had been put together. Needless to say, your editor opted to take in almost every show and my tour report follows...
I made the lengthy trip down to Bristol for the first show of the tour at the Colston Hall, a venue I had long wanted to visit, especially with its associations with the band. Anticipation was high as I met up with long standing TWR/Pavilion reader Jeremy Brown for a guided tour of some of Bristol's finer hostelries before making our way to the gig. Clutching ticket in hand I eagerly took my seat. A few minutes before showtime, a familiar figure wandered across my field of vision. Yes, it was Peter Gabriel and he took up his seat with his two daughters a mere two rows behind me - I am still wondering what he thought of it; but if the smile on his face which I saw on the occasions when I glanced back in his direction are anything to go by then I think I am safe ground saying that he enjoyed himself.
Anyway, to the music! As usual on this tour; the band opened up with "Watcher Of The Skies" and it was quite simply awesome to watch as the band unfolded their recreation of this masterpiece which was simply perfection both in sound and vision! Our old friend Britannia made a welcome appearance next for "Dancing With The Moonlit Knight" for which my only quibble was that singer Denis Gagne rather garbled the introductory story - a problem which was to recur at every other show as well. Nerves perhaps? Understandable given the presence of Gabriel in the crowd!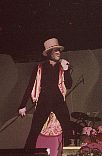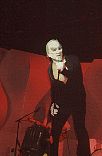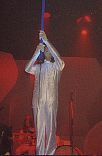 The Musical Box on stage (Photos: TWR)
"The Cinema Show", "I Know What I Like" and "Firth of Fifth" were delivered faultlessly so much so that once again I felt that I was watching the 1973 film. The accuracy of presentation was frightening at times. The tale of "The Musical Box" was another astonishing performance where the entire band and in particular keyboard player Francois Richard and drummer Guillaume Courteau took complete command to weave an enthralling musical spell over the stage and audience. "Horizons" was another highlight with guitarist Denis Champoux delivering this acoustic masterpiece faultlessly, although as someone more observant than I pointed out afterwards, he should have been playing it on a classical nylon string guitar rather than the steel strung variety he was apparently using. Who cares? I know I certainly didn't Denis' performance was a joy to behold. [Actually... On "Foxtrot", "Horizons" is played using a steel-strung Yamaha acoustic that Steve borrowed (from a person whose identity is now forgotten), through a rotating Leslie speaker cabinet. Given that The Musical Box aim to reproduce the studio recordings of the songs on the "Selling England" tour, Denis' choice of a steel-strung guitar is quite apt - TWR Equipment Ed.]
"The Battle Of Epping Forest" certainly tested Denis' vocals to the fullest and indeed, it is now so much easier to understand the comments that Genesis made at the time about their being too much going on in this piece. The "battle" between music and lyrics must have taken its toll on everyone.
Closing the set proper with "Supper's Ready" (what else?) presented the audience with an astonishing combination of musical drama and visual excellence that I don't think will ever be beaten. Every gesture and mannerism was there and with the full range of effects used by the band in the original show; there were even some surprises for me here - especially the moon faces and the strobe effects and the fire from the skies all of which worked extremely well.
The band took their well deserved bows and left the stage to screams from the crowd for more; and they didnít disappoint as they returned for a final flourish with "The Knife" in all its majestic glory. The audience leapt to their feet to carry the band through this classic before finally the show was over and we were left astonished and exhausted. This was opening night and with six more shows in prospect; this was shaping up to be a great week!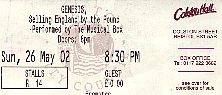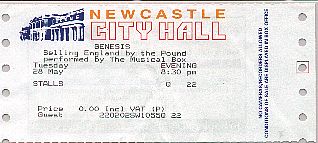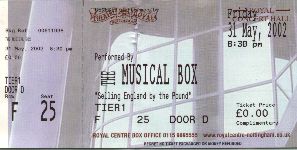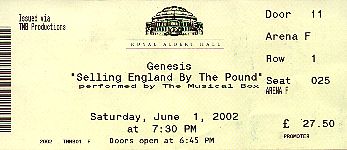 Tickets for the various TMB shows (Photos: TWR)
Taking my leave of Jeremy the following morning I travelled up to the Civic Hall in Wolverhampton for the next show. I was also looking forward to meeting long time fans Kevin Powell and Peter Gozzard whom had both seen Genesis in the Gabriel years and whose thoughts on the show I was waiting to hear. A disappointing turn out in respect of numbers was more than made up for by enthusiasm and another excellent show was delivered leaving both Peter and Kevin with smiles on their faces and me with the opportunity to say "I told you so" to the pair of them!
Onwards and upwards to Newcastle and the City Hall; scene of many a Genesis triumph. This was to my mind the weakest show of the tour. Not helped by the lowest turn out in the smallest of the venues the band were to play. Musically, the show seemed to have lost a little of its fire but it has to be said, playing to a less than half full hall canít have helped. Nonetheless, the enthusiasm of the fans there must have been gratifying.
Unfortunately, a stomach complaint ensured that I missed the next gig at Sheffield [you northerners can't handle your beer - TWR Party Ed.] and so I travelled on to Manchester for my "local" gig. This was without doubt the best show so far. A very full house gave the band a rapturous reception from start to finish and the sound - well, I have been attending gigs at this venue for the better part of twenty five years now and I have seldom (if ever) heard a concert sound as good as this. And this boded well for the remaining two gigs.
Next up, Nottingham - and a venue at which is notoriously difficult to get a love vibe going. Not tonight, Josephine! From the moment the band took the stage, the crowd were behind them 110%. Cheers broke out spontaneously and applause was heartfelt and genuine. Once again, the excellent acoustics of the hall were augmented by an excellent sound engineer which ensured that every nuance of the music was there to be heard. If they could pull this off at tomorrow's gig at the Royal Albert Hall - another venue notorious for difficult sound, then it would be a crowning glory to a brilliant week!
Travelling to London was made all the more enjoyable by the presence of our international contingent: Louise Couillard from Montreal; Michael Spuck from Frankfurt; Marla Christensen from Maryland and Jack Beermann from Boston. With the sun cracking the flags we arrived in the capital for the final show of the tour. Before all of that, however; we had a slight detour to an extremely enjoyable chat with Steve Hackett during which, among other things, he confirmed that the rumour mill was in fact correct for once - he was going to be on stage with the band for their final encore! Already excited at the prospect of the final gig of the tour, this was very welcome news.
Taking our leave of Steve, we made our way to the pub selected for the pre-gig meet and greet for fans from all around the world who were here for this joyous celebration of Genesis and their music. Practically anyone who was anyone in the Genesis fan community was here, including representatives of all the European fanclubs. It was a wonderful chance to catch up with old friends and also to make a few new ones as well oh, and to drink some excellent beer too!
Arriving in the hall in time to catch the end of Denis Champoux's opening act I took my seat on the front row for what was promising to be a special show. It is always difficult to gauge the reaction of a crowd at this venue but with so many hard core Genesis fans in attendance there was never any reason to doubt that this was going to be a full throttle show. Right from the word go, the band pulled out all the stops and I felt the hairs on the back of my neck stand up at several points. Once again the band brought the roof down with "The Knife", but the cheering didnít stop as the now "open" secret of Steve's impending arrival on stage, kept everyone on their feet and baying for more. Re-taking the stage, Steve emerged with the band looking happy and contented to be there as they launched into "Firth Of Fifth" once again with Steve displaying some of his finest licks for our appreciation. Then it really was over, and one of the most enjoyable weeks of gigging I have participated in since 1998's "Calling All Stations" tour had come to an end.
Well... Not quite. There still remained the now traditional after show party, which this time was held in the General Scott Room of the Albert Hall itself. Being one of the fortunate recipients of an invitation to attend, I made my way to the room in question to find myself surrounded by a host of familiar friends and fans as well as the surprise presence of not only Steve Hackett but his mother, father, brother John, wife Kim and manager Billy Budis. This was the opportunity to take leave of people who had become our "family" for the last seven days and it was a wonderful way to end the tour.
Over all thoughts of the shows? Well; one thing that does strike me now is that the "Selling..." show itself has now become extremely dated. That is not a criticism of The Musical Box, or Genesis. This production is very much a product of its time and it does make me realise now how much of a quantum leap "The Lamb..." was to be. However, as one of my favourite Genesis albums, to get the chance to see this show here in the UK and at some of the actual venues where Genesis themselves played, was priceless. Musically and visually, the band excelled themselves and are to be congratulated on a special performance which I am sure those fortunate enough to attend will remember for a long time!
All that remains now is the traditional thank you to the cast of thousands (well, not quite!) who made this such an enjoyable experience. So, in no particular order, here goes...
First of all, my grateful thanks to the guys in The Musical Box for having the courage to take a risk on bringing such a mammoth undertaking here to the UK in the first place - bien joue, mes amis! My thanks to Duncan Philips for pulling yet another miracle off and for his patience and friendship. To the various members of The Musical Box extended family and in particular to Louise Couillard for being such a pleasure to have in our company. No MB show would be complete without the "Blackadder Twins" Philippe Perreault and Alain Granger; merci mille foix mes chers amis - le temps prochaine au Canada, peut etre?
To the fans without whom none of these gigs or these magazines/ web sites would be possible; to Jack Beermann for his inestimable contribution to The Musical Box and to the Genesis fan community in general. To all the fan club editors and web site creators; Thomas Holter (The Path); Simon Funnell (The Movement); Mario Giammetti (Dusk); Helmut Janisch, Bernd Zindler and Peter Schutz (It); Manuela Thiele (Tony Banks website); Dave Dunnington all of whose expertise serves the Genesis community so well.
To the fans who said hello or played host to this wandering minstrel during the week; Jeremy and Mrs Brown; Steve and Vanda for two great days; to David Beaven; Neil Barnaby; Will Ingram; Kevin and Shirely Powell and Rachel; Peter Reid; to Francois Damide and Francois Piette for their incredible enthusiasm. To Roger Salem; Mino Profumo and the "Italian Mob" for being completely crazy. To Stuart and Paul; Peter Gozzard and Mike Jackson; Jill and John and anyone else I may have encountered over this last week; you know who you are and thank you! Now, about this "Lamb..." tour...!