"Listening to the MUPPET Show" - The latest additions to this Peter Gabriel live concert series reviewed by Alan Hewitt.
Jesper Moonen's name will be familiar to many of you from previous reviews of his work here in TWR. His dedication to the music of Peter Gabriel needs no further introduction from me. He has brought several more live gems to life for Peter's fans and here are the details of a few of them.

Muppet 09: Manchester Apollo Theatre 29th April 1977
Aaah yes the memories! This was my second ever Peter Gabriel gig and the very first concert hosted by The Manchester Apollo I believe. Difficult to believe now I know but here it is. Not the greatest of recordings although considerably cleaned up from several sources, the end result is an essential document of this first solo outing by Peter.
Track Listing: Here Comes The Flood/On The Air/Moribund The Burgermeister/Waiting For The Big One/Indigo/Excuse Me/Ain't That Peculiar/Solsbury Hill/Humdrum/Slowburn/All Day And All Of The Night/Here Comes The Flood/Modern Love/Down The Dolce Vita/Back In NYC.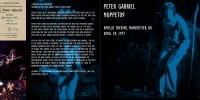 (notice the way that AH's cover notes have been left on the picture.......! SB)

Muppet 07: St David's Hall Cardiff 7th March 1980
Moving forward in time, here is another treat. Peter's 1980 tour was another memorable one and none more so than this show at Cardiff which I am still amazed was played. Almost the entire band were victim to flu and the performance is affected by this none more so than during Family Snapshot which is stopped and started no less than FOUR times! An excellent sounding recording of this gig, this is an essential addition to any Gabriel collection.
Track Listing: Intruder/Start/I Don't Remember/Solsbury Hill/Family Snapshot/Milgrams 37/Modern Love/And Through The Wire/Normal Life/Moribund The Burgermeister/Mother Of Violence/Humdrum/ Games Without Frontiers/Not One Of Us/I Go Swimming/Biko/On The Air/Here Comes The Flood.

Muppet 02: Apollo Theatre Glasgow 12th September 1983
Another trip forward to the 1982/83 tour in support of Peter Gabriel 4. Jesper has already documented this tour with superb recordings of the first two WOMAD shows earlier in this series, but if anything this recording from the UK leg of the tour is even more special. Even amongst Gabriel fans, this gig has achieved legendary status. Now you can understand why. From the very beginning of this excellent recording, you can tell that here is not only a band on top of their game, but also an audience that is here to party! If you don't have any other PG recordings from this period, make sure you have this one!
Track Listing: Rhythm Of The Heat/I Have The Touch/Not One Of Us/The Family And The Fishing Net/Shock The Monkey/Family Snapshot/Intruder/Games Without Frontiers/Humdrum/DIY/Lay Your Hands On Me/Solsbury Hill/I Don't Remember/San Jacinto/On The Air/Biko/Here Comes The Flood/Kiss Of Life

I am sure that Jesper will continue to bring more delights to us in this excellent series and I look forward to reviewing them as they appear!