READER'S/LISTENER'S CORNER
I thought it might be interesting for you to hear about some of the stuff that the TWR editorial staff have been reading/listening to lately…
First up, yet another bloody book on Genesis!
Genesis - The Gabriel Era by Bob Caruthers (with additional material by Hugh Fielder)
Strangely enough, this book has been available for a couple of years now and I don't really know why I hadn't picked up a copy before. Anyway, it is in the TWR reference library now.
Taking as its premise, the re-telling of the band's story from formation to the departure of original front man; Peter Gabriel, this book does that through the words of several of the key music critics who followed and chronicled the band's rise to major cult status. These include the work of such journalistic alumni as Chris Welch and Barbra Charone and it is interesting to read some of their features on the band again from this period. Both Welch and Charone were bold champions of the band throughout this period but neither of them can be said to have been prone to kissing the band's arse - far from it! Both of these journalists were not above giving criticism where it was deserved - both favourable and unfavourable which is exactly how it should be!
Hugh Fielder's work with Sounds should also be well known to most fans of the band and it is he who gives an insightful and informed opinion on each of the band's albums from this period in a series of reviews which preface each chapter. Fully illustrated including the marvellous "Three Scenes In Kent" by Paul Whitehead, and a range of photographic and other material many of which I have never seen before, this project makes an extremely useful reference work and is highly recommended.



Genesis - The Gabriel Era by Bob Carruthers. Angry Penguin Publishing Ltd. ISBN 13: 978-1-906283-35-3
Our Dark Twin - The Paradoxical Saviour Within Us by Joanna Lehmann.
An extremely interesting and thought provoking book by the new lady in Steve's life. Joanna's interest in all things spiritual and mythical is given full rein here in a fascinating book which posits that the darker spirit which affects each and every one of us, far from being a destructive influence, can in fact be both positive and beneficial.
Throughout the book, Joanna's erudition and knowledge takes the reader on an exploration of the darker side of life - a side often ignored, avoided or on occasions, persecuted for being "different" . All in all an intriguing book which will certainly make you think about aspects of your own character and life in a different way - stirring stuff!

Our Dark Twin by Joanna Lehmann. Tagman Press. ISBN: 1-903571-56-1
Now on to the music…
It is not often I take notice of what the music critics have to say but I recently came across a review of a new album by Seth Lakeman, whose name I had been noticing regularly over the last few years. Lakeman has been pigeonholed in the "Folk" category which to many people is almost as grave a sin as being labelled "Progressive". Fortunately, I don't really care about categories where music is concerned and that is just as well because otherwise I would have missed out on some superb music!
Yes, Lakeman IS a folk singer, in the old tradition but with a modern twist. The songs on his four albums are firmly based around the storytelling tradition of the Dartmoor region; an area replete with myths, traditions and stories aplenty for any writer from Daphne Dumaurier and Conan Doyle onwards. Each album has its own character and style and Lakeman's development as he has progressed through each one is as organic and earthy as the great swathe of Dartmoor itself. Fans of Anthony Phillips's work will no doubt recognise the track Solomon Browne on Lakeman's latest album: Poor Man's Heaven as another tribute to the bravery of the crew of the Penlee lifeboat crew so poignantly told in Ant's The Ballad Of Penlee. With a unique vocal style and an excellent well spring of song ideas, there is a great future ahead for Seth Lakeman and I can heartily recommend any of his four albums to anyone with a love of good music whatever category it comes from!
Seth Lakeman: The Punch Bowl EMI/Relentless 0094636575728
Seth Lakeman: Freedom Fields Relentless 00946365575520 CDREL 10
Seth Lakeman : Kitty Jay Relentless 094636578827
Seth Lakeman: Poor Man's Heaven 50999 217003 2 3/CDREL 18
And finally…
The Gift are essentially the duo of Mike Morton and Leroy James ably assisted by several other musicians on this, their debut album; Awake & Dreaming. As our previous artist is very much a part of the Folk tradition, so The Gift are essentially a Progressive band (make of the term what you will). The album is divided unusually into two "sides" . Side one, titled Awake & Dreaming has a definite Genesis influence to it well with a track titled The Carpeted Corridors what else are you to expect. However, that doesn't spoil the album, far from it and the sheer quality of the music is superb. There is a lot to listen to on this album and it takes more than a casual listening to really get into it but once there, repeated listening reward the listener in many and unexpected ways - an above average effort and well worth investigating!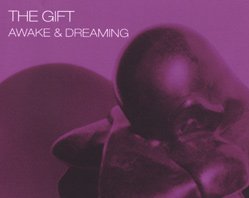 The Gift: Awake & Dreaming Cyclops Records CYCL151
And that's it for this edition. If you have anything to recommend to the TWR editorial team, send in the details to us at the web site address and who knows, it might be reviewed in our next edition!