"Far From The Bottom Line!" - Steve Hackett live at the Bottom Line Club 20th September 1992. DVD reviewed by Alan Hewitt.
Well, this one caught me completely unawares! I was aware that an edited recording of Steve's gig at this venue in August 1992 was available - indeed, a copy is in the TWR archive. This recording, taken from the return gig a month later, however was completely unexpected.
Released as part of the Japanese boxed set of remastered Hackett albums, this recording is of a complete gig from this tour, where Steve re-appeared after an exile of almost four years. Fans had begun to wonder if their hero would ever be seen again, the silence from the Hackett camp was deafening! So were these concerts as anyone who attended either the 1992 US "Tour Noir" as it was called or the subsequent European "Guitar Noir" tour of 1993/94.
So here we have Steve and his new look band doing what they do best, performing in front of an enthusiastic and knowledgeable crowd at one of New York's most famous clubs. From the start it is obvious that Steve and the band are in playful form, indeed Steve emerges on stage after trying, Samson-like to demolish one of the pillars that flank either side of the stage. The opening medley incorporating extracts from Myopia, Los Endos and Ace Of Wands sets the standard for the rest of what is a high octane performance. The pace is equally furious with both Camino Royale and Vampyre With A Healthy Appetite keeping the pressure on.
The emphasis at these gigs was to road test new material from the as yet unreleased Guitar Noir album and as such we have performances of tracks which were very much "works in progress" None more so than Flight Of The Condor which we now know as Sierra Quenada (The Scorched Earth) a much more appropriate title for this blistering guitar romp! This is in turn followed by Take These Pearls another indication of the direction Steve's new work was to take.
In fact, the "old stuff" was destined to take very much a back seat at these gigs and the subsequent UK/European tour too with passing nods to both Genesis (In That Quiet Earth and Blood On The Rooftops and Horizons) and Everyday being the sole representatives of Steve's previous back catalogue. Not that that mattered at all to the fans either at this gig or any of the others. What did matter was that Hackett was BACK and this DVD is a superb reminder of that particular period - gripping stuff indeed!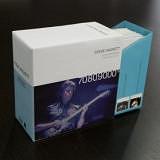 Steve Hackett In New York 1992 Track Listing: Medley (Inc: Myopia-Los Endos-Ace of Wands)/Camino Royale/Vampyre With A Healthy Appetite/Flight Of The Condor/Take These Pearls/Always Somewhere Else/In The Heart Of The City/Walking Away From Rainbows/There Are Many Sides To The Night/In That Quiet Earth/Depth Charge/Everyday/Blood On The Rooftops-Horizons/The Stumble. WHD Entertainment DVD IEZP-6 DVD1 DISC 15