Listeners/Viewers Corner - The latest material to be given a viewing/listening at TWR HQ.
The new additions to the TWR archive have been less than normal recently but nonetheless, a couple of nice items have emerged which I will mention here. Oh, and there are some nice official releases in here, too!
First up is the private film of Peter's recent gig for the "Witness" project which was performed at Malmesbury on 25th July 2009. Considering that Peter's performances this year have been quite scarce, to have a complete visual record of one of these events is nice and especially when it is in such good quality. The show opens up with performances of two of the track from the ongoing "Scratch My Back" project which Peter has been working on for some time now and the choices make interesting viewing although personally I think they are both rather flat performances. The rest of the gig is made up of the usual mix of old and new material and the band are as superb as you would expect. Visually and sound wise the film is another very enjoyable addition to any Gabriel collector's archive.
Peter Gabriel: The Malmesbury Witness, Charlton Park, Malmesbury - 25th July 2009.
Set List: The Boy In The Bubble/The Book Of Love/Darkness/Come Talk To Me/ Steam/Downside Up/Games Without Frontiers/No Self Control/Big Time/Washing of The Water/The Tower That Ate People/San Jacinto/Red Rain/Solsbury Hill/Biko.
Another addition to the Gabriel archives is next. The Blackpage Archives 1993 - 1999 (curious title, that!) is yet another compilation of television appearances covering the same period and includes some excellent performances by Peter with a host of other stars including REM's Michael Stipe and the late Nusrat Fateh Ali Khan. Excellent viewing it makes too and all in broadcast quality - another useful item for Gabriel collectors.
The Blackpage Archives 1993 - 1999.
Saturday Night Live 4/10/93 (Steam/In Your Eyes)/ David Letterman Show 8/9/94 (Red Rain/Interview)/ VH1 Honours 28/4/96 (Red Rain/Signal To Noise)/Academy Awards Ceremony 21/3/99 (Babe - That'll Do)/ VH1 Honours 28/4/96 (Original Broadcast In Your Eyes).
The final Gabriel item to reach the archive was perhaps the most surprising of all. I have already stated that I was not a big fan of the Ovo project but here we have the Electronic press kit for that very project and it makes fascinating viewing and gives an excellent insight into the work and planning behind the show and the album itself.
Another archival item for Hackett fans has appeared too. Taken from one of Steve's shows on his "Gira Latinoamericana" in 2001. This one is about half of the show from the gig at Santiago Chile on 3rd July 2001 and features some of the best performances from the gig. Sadly, the cameraman/woman was situated about three quarters of the way back in the auditorium and as a consequence, the picture is obscured by heads at times. The complete soundboard recording of this gig has been in circulation for quite some time and so this makes an interesting accompaniment to it, I suppose.
A Darktown In Chile: Gymnasio Santa Rosa De Las Condes, Santiago, Chile 3rd July 2001.
Myopia Medley/Serpentine Song/Watcher Of The Skies/Hairless Heart/Firth OF Fifth/Riding The Colossus/A Tower Struck Down/Lucridus/Darktown/Camino Royale/Horizons/Los Endos/In That Quiet Earth.


Thank God for Rick Wakeman! Yes, the Caped Crusader is back with his latest live DVD offering and what a belter it is! Recorded over two nights in the fantastic setting of the grounds of Hampton Court Palace. It has only taken Rick a mere 36 years to have his request to perform his classic Six Wives Of Henry VIII album in the palace grounds granted, but the wait has been well worth it! Instead of a straight run through of the album, Rick opted to alter the running order and indeed the "wives" have all been re-written somewhat as well as adding several new pieces and one, Defender Of The Faith which had been omitted from the album due to the time restrictions on vinyl. No matter, it is here now in all its glory. Musically and visually, this DVD is a real treat, and Rick is accompanied by a host of talents including his own son, Adam, who is no slouch in the keyboard playing department, Ray Cooper on percussion, the English Rock Ensemble and the Orchestra Europa conducted by Guy Protheroe and not forgetting the ENORMOUS talents of our narrator; Mr Brian Blessed who is obviously in his element here. Sorry folks, but you can forget your Dream Theaters and Flower Kings, while Rick Wakeman is around the king of Prog is not dead - long live the king!
Rick Wakeman - The Six Wives Of Henry VIII Live At Hampton Court Palace.
Henry's Fanfare/Tudorture "1485"/ Catherine Of Aragon (2009)/Kathryn Howard (2009)/Jane's Prelude/Jane Seymour (2009)/Defender Of The Faith/Katherine Parr (2009)/Anne Of Kleves (2009)/Anne Boleyn (2009)/Tudorock/Tudorture "1485. Bonus feature: "Behind The Scenes With Rick". Eagle Rock EREDV 755
Next in this round up of recent arrivals to the TWR archive, come several Ray Wilson live shows. Not having had the opportunity of seeing Ray on the concert stage since the acoustic shows in 2002- every time since then, his UK shows seem to have clashed with something else - even this year's solitary performance in London clashes with Steve Hackett's performance at the "Summer's End" Festival! Therefore, the brace of DVDs from recent shows in Italy and Belgium gave me a chance to catch up somewhat.
Ray Wilson: Rockpalast September 2002.
Change/Along The Way/Inside/Interview (Pt1)/Gypsy/Not About Us/Interview (Pt2)/Goodbye Baby Blue/Footsteps.
Ray certainly seems to have found his niche in Germany and other parts of Northern Europe of late. Here we have an excellent TV broadcast from the marvellous "Rockpalast" series by WDR TV in Germany. Having not seen Ray with a band since Cut, this makes for very interesting viewing.
Ray Wilson: Forte Dei Marmi Italy 2nd August 2008.

An interesting recording this one, comprising as it does, not only the gig itself but also some of the sound check during which Ray and the band run through numbers that they didn't perform at the show itself. Calling All Stations for instance, a distinctly heavier version of one of my favourite tracks from the all-too-brief Ray era band. It was also great to hear some of the Cut material again which brought back a few memories alongside newer material which showed that Ray is still a worthy songwriter and performer in his own unique way - well worth a viewing if you can get hold of a copy!
(Soundcheck 2nd sources): Calling All Stations/Change/She (Concert 1st source): She/Space Oddity/Another Day/Lemon Yellow Sun/Hey, Hey/In the Air Tonight/Follow You Follow Me/Rest In Peace/Sarah (Encores 2nd sources): Constantly Reminded/Change/Carpet Crawlers/Lover's Leap/The Airport Song/Alone.
Ray Wilson: M.C. de Bosuil Weert Holland 15th November 2008.

Not having had the opportunity to hear Ray's latest album; Propaganda Man, for myself yet, I will have to be content with comment on the handful of tracks from it scattered throughout this recording. The set serves as a nice show case for material from every part of Ray's career which is as it should be. The newer material once again demonstrates how good a song writer Ray is and it is great to see him with a proper band again. If only he could get a proper series of gigs in the UK then I would be off like a shot but in the meantime, grab a copy of this recording if you can and enjoy the performance.
Another Day/Space Oddity/Lemon Yellow Sun/Cosmic Baby/Change/Follow You Follow Me/Sarah/Solsbury Hill/Constantly Reminded/The Brakes Are Gone/She/ Taking Time/Sunshine And Butterflies/Footsteps/Inside/Frequency/The Airport Song/Propaganda Man/Razorlite/Bless Me/Knockin' On Heaven's Door-No Woman No Cry.
Ray Wilson - Live And Promo Videos
This one brings up the rear of this brace of items from Ray. It does exactly what it says on the sleeve, and brings together a selection of television appearances and the handful of promotional videos for Ray's singles, most of which I had never seen before. Interesting stuff and one fans of Ray's music will want for their collections.
Sarah - Live/Change - Live/Follow You Follow Me (German TV 5.3.05)/ Big City Nights - Live 22.6.00 (with The Scorpions)/These Are The Changes/Yet Another Day/Inside (promo)/Footsteps (Promo)/Rest in Peace (Promo)/Le Parkour - Video Clip (with Stiltskin)/Fly High (Promo).
Paul Carrack: Live In Liverpool - Dash Productions PCARDVD3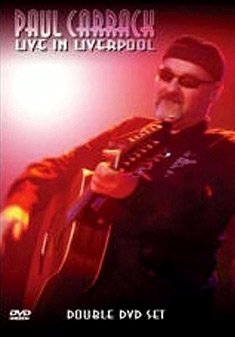 Another welcome addition to the TWR archive comes in the shape of this rather nifty two DVD set which captures a night spent in the company of Mr Carrack at our very own Philharmonic Hall. Spread over two DVDs this really is a treat for fans of Paul's musical career with a fair helping from his time with the Mechanics as well as some of his more recent musical offerings. We really are spoiled for choice here because the two DVDs offer two entirely different sides of Paul Carrack. The first disc is a marvellous acoustic performance while the second is the full electric set, both equally enjoyable and chock-full of hits performed in Paul's very own inimitable style. A superb performance and one which all music fans will enjoy!
DVD1 : Acoustic Set: Sunny/My Kind/She Lived Down The Street/Running Out Of Time/Love Will Keep Us Alive/If I Were You/Don't Dream It's Over/Eyes of Blue/ Nick of Time/For Once In Our Lives.
DVD2: Electric Set: Another Cup Of Coffee/Beggar On A Beach of Gold/Tempted/ Just A Little Lie/Where Did I Go Wrong/Silent Running/It Ain't Over/The Living Years/Nothing To Lose/Make Your Mind Up/How Long/Over My Shoulder/ Sniffing About.
Bonus Features: Interview with Paul Carrack/Band interviews/Soundcheck feature.

Magenta are a band whom I am sure many of our readers are familiar with, but ashamed as I am to admit it, until I actually met two members of the band at this year's Summer's End Festival, I had not heard of them. That was rectified by the pressing into my hand of "The Collection" a promotional disc featuring some of the band's best known music. To say I was impressed was an understatement. It has been a while since I heard what is for me, genuinely NEW music and been excited by it but this collection certainly whetted my appetite for more. Yes, there are echoes of several progressive masters throughout this collection but that is all they are - echoes. Unlike so many bands in the so-called "Neo Prog" genre, Magenta have avoided the pitfalls of ripping off their heroes' finest riffs etc and instead have created genuinely uplifting and exciting music that any real music fan would be proud to have in their collection - now all I have to do is find the albums this little lot came from!
For further info contact: www.magenta-web.com
Jethro Tull: Live At Madison Square Garden new York NY 1978. EMI 50999 9 67 92025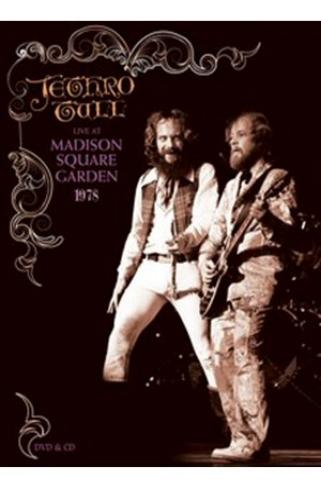 And bringing up the rear another release by my favourite band - Jethro Tull. Considering that Ian Anderson supposedly has an aversion to nostalgia, it is surprising to remember that over the course of the last couple of years, fans have been treated to a wonderful series of archival releases of which this is the latest. Taken from the satellite broadcast of a show during the Heavy Horses tour which saw Tull at their creative best, this has long been overdue for release from the archives. Sadly, no additional footage to that which was broadcast at the time, appears on this release but nonetheless, to finally have the footage itself in broadcast quality is a Tull fan's dream come true and the bonus CD is a treat as well.
Jethro Tull: Live At Madison Square Garden New York NY 1978.
DVD (Start of concert recording audio only) Sweet Dream/One Brown Mouse/ Heavy Horses/ (Start of broadcast DVD) Opening/Thick As A Brick/No Lullaby (inc flute solo)/Band Intro/Quatrain/Aqualung/Locomotive Breath (Inc Dambuster's March) (End of broadcast DVD) Too Old To Rock 'N' Roll, Too Young To Die/My God/Cross-Eyed Mary/Encore: Locomotive Breath (inc Dambusters March).
CD: Sweet Dream/One Brown Mouse/Heavy Horses/Thick As A Brick/No Lullaby (inc flute solo)/Songs From The Wood/Quatrain/Aqualung/Locomotive Breath (inc Dambusters March)/Too Old To Rock 'N' Roll, Too Young To Die/My God/Cross-Eyed Mary.