M6 GIG GUIDE 1999
Hanover Grand

London

England

10.5.99

Barbican Theatre

York

England

13.5.99

Apollo Theatre

Manchester

England

14-15.5.99

Apollo Theatre

Oxford

England

16.5.99

City Hall


Sheffield

England

17-18.5.99

B I C

Bournemouth

England

20.5.99

Conference Centre

Brighton

England

21.5.99

Corn Exchange (Cancelled)

Cambridge

England

22.5.99

Royal Albert Hall

London

England

24-25.5.99

Pavilion

Plymouth

England

26.5.99

Colston Hall

Bristol

England

28.5.99

St David's Hall

Cardiff

Wales

29-30.5.99

Royal Theatre

Hanley

England

31.5.99

Symphony Hall

Birmingham

England

1-2.6.99

Fairfield Hall

Croydon

England

3.6.99

Clyde Auditorium

Glasgow

Scotland

5.6.99

Royal Concert Hall

Nottingham

England

6.6.99

St George's Hall

Bradford

England

8.6.99

City Hall

Newcastle

England

9-10.6.99

Stadtpark Festival

Hamburg

Germany

13.6.99

Museumsmeile

Bonn

Germany

18.6.99

Guildhall

Portsmouth

England

20.6.99

Fairfield Hall

Croydon

England

21.6.99

Derngate Centre

Northampton

England

22.6.99

Corn Exchange
(Re-scheduled gig replacing show cancelled on 22nd May)

Cambridge

England

23.6.99

Olympia Theatre

Dublin

Eire

1-2.7.99

"T In The Park" Festival, Hyde Park

London

England

4.7.99

Don Valley Stadium*

Sheffield

England

6.7.99

Wembley Stadium*

London

England

10-11.7.99

Maine Road Football Stadium+

Manchester

England

22.7.99

TV Studios

Baden Baden

Germany

19.9.99

Langelands Festival

Langeland

Denmark

28.7.00

Drobak Festival

Oslo

Norway

29.7.00

(These gigs were cancelled after Paul Young's death was announced)
* = Mechanics gigs supporting Celine Dion.
+ = Mechanics gig supporting Rod Stewart.
1999 Set List: A Beggar On A Beach Of Gold/Get Up/Ordinary Girl/Now That You've Gone/Another Cup Of Coffee/Whenever I Stop/My Little Island/All The Light I Need/Every Day Hurts-How Long-I Can't Dance/The Living Years/All I Need Is A Miracle/Over My Shoulder/Word Of Mouth.
There was nothing wrong with the attitudes expressed by the fans at the gigs which I attended during this tour. In fact, the fans were equally at home with the new material which featured extensively in the new set. The tour wound up with a handful of stadium shows where the band were the opening act for such unlikely artists as Celine Dion and Rod Stewart of all people! A second single; Whenever I Stop was also issued but once again it failed to emulate the success of preceding Mechanics offerings. The band wound up the year with a televised performance for German TV's "Ohne Filter" show which was recorded in front of an invited audience at the TV studios in Baden Baden on 19th September.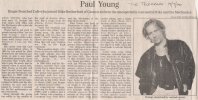 Planned appearances at several European festivals in the summer of 2000 were immediately cancelled following the shock death of Paul Young on 18th July 2000. His death at the age of 53 took everyone, fans, band members and management by surprise and activities with the Mechanics were immediately put on hold. Thankfully, Paul's legacy of recordings both with the Mechanics and Sad Café will ensure that he is always fondly remembered and I for one have many great memories of Mr Young which I will always treasure.
The Mechanics' story has continued however, but that is something for another edition, folks!