"From The Steppes To Buxton Opera House and beyond!" - This year's Steve Hackett UK tour report by our roving reporter Alan Hewitt. Photographs by Alan Hewitt, Stuart Barnes, Kevin Fearn, David Roberts and Lee Millward. Memorabilia: TWR Archive.
Well, a UK tour by Steve and of course, TWR had to be in attendance but even by our normal standards, this year's jaunt had more than its share of drama as this review shall reveal.
The opening show of TWR's part of the tour was at the show in London at the Shepherds Bush Empire on 14th November. I had deliberately chosen not to look at any of the spoilers from the preceding shows in Europe and the first couple in the UK. Therefore I was ready to be surprised by Steve and the band. And, surprised I certainly was. Even the intro music was a surprises, as we were treated to the musical part of Last Train To Istanbul from the new album to herald the band onstage. The show itself opened with Mechanical Bride, which, I have to say is not my idea of a set opener but the crowd seemed to like it and it served as an aperitif for the musical feast that we were about to be served.
Fire On The Moon, already an onstage favourite from the shows earlier in the year, has grown enormously in stature and kudos to Roger and Nick here who augmented Steve to perfection on this one. Everyday took us back to the wintry days of 1979 and in fact, with the weather being as it was, it almost felt like we were back there as Steve took us on this wonderful trip down memory lane - the crowd greeted the song like a long lost friend and the band obviously were feeing off the energy coming back to them from the crowd.
Emerald And Ash, without doubt one of the most emotional songs that Steve has ever written was next, and the entire band, augmented by Amanda Lehmann on vocals and guitar delivered this one in fine fashion. You could almost feel the emotion as Steve delivered the vocals and this was a highlight of this and every other show that I was to see on the tour. Rob's sax has seldom sounded more beautiful than it does here. Ghost In The Glass too came across infinitely better live than it does on the album, Roger's playing here was simply stunning - shivers down the spine time!
Another trip back to the dank dark Seventies next, when yours truly had a full head of hair and it was all the same colour (I think?!) for Ace Of Wands, an evergreen classic that is not really showing any signs of age - a bit like Steve himself really! The entire band really let their hair down on this one. Pollution B continues to serve as the segue into the marvellous aural evocation of the windswept Steppes and in turn to the garish portrayal of propaganda and its proponents that is Slogans.

The pace slowed down a bit for the magnificent tribute to Steve's father, Peter that is Serpentine Song, and I am not ashamed to say that this one brought more than a tear to my eye, it is simply a beautiful song and played to perfection tonight. Gary's vocal delivery was absolutely perfect. Tubehead picked the pace right up again and the band really let themselves go on this one - who said Steve doesn't know how to rock??!
A Hackett show without Spectral Mornings is unthinkable and here it was, once again in all its glory. It is obvious that Steve never tires of playing this one and I for one will never tire of listening to it either - still makes the hairs on the back of my neck stand up every time! Then a trip even further "westward - agriculturally speakin'" for Firth Of Fifth which was greeted by rapturous applause from the crowd and deservedly so. Roger and Steve shone here but so did the rest of the band especially Nick Beggs, whose bass playing underpinned the song magnificently.
Then a surprise treat; as Steve announced his brother John on stage to accompany him in an acoustic rendition of Jacuzzi which heralded the beginning of an extended acoustic set which eventually took in not only Horizons but also Blood On The Rooftops in all its glory and once again, honours to Gary for a fine performance which had its usual effect on yours truly!

Even further back in time again for two heft slices from The Lamb… Fly On A Windshield and Broadway Melody Of 74 both of which were simply superb. Nick Beggs in particular threatened to bring down the roof with his bass playing and the rest of the band were not far behind him in the aural vandalism stakes!
Back to the new stuff and a marvellous book ending of two totally contrasting tracks; Sleepers, the aural "theatre of dreams" where daydreams and nightmares all combine came first followed by a wonderful demonstration of solo Chapman "Stick" playing by Nick which led into the raunchy blues of Still Waters with an onstage show between Nick and Amanda that got raunchier every night - marvellous stuff! Then the show proper ended and what other way could you end a Hackett show these days? Well, with Los Endos of course. This extended and revamped version threatened to devastate the theatre and left everyone, band and audience alike, cheering for more.
It wasn't long in coming and Gary's metronome intro heralded Clocks and another chance for all of us to ladder our tights in celebration of the fact that the maestro had returned - better, stronger and more magnificent than ever. One show, down - only another six to go!
After a couple of days' well earned rest it was back on the road again this time to Buxton, home of the famous spa and the equally famous Opera House. This was a venue I was looking forward to seeing Steve play. I always think that he comes across better in the more intimate setting of such places personally. Tonight, however was not one of those nights. Nothing wrong with the performance, which was top notch again, but rather the audience who were a little too reserved in their appreciation of the spectacle that was unfolding in front of them. I was even provoked to ask "Can we clap now?" at one point - but hey, the band turned in another excellent performance with some fine individual moments scattered throughout the gig.

I opted not to attend the show in Wolverhampton in view of the fact that the following day I would have to travel to Glasgow and with the weather turning increasingly nasty over the two or so preceding days, I played safe. Nonetheless, the trip from Liverpool to Glasgow was not without its moments of drama - passing over at least two rivers that had broken their banks was one thing, and on more than one point the train looked like it was actually swimming but we still got there - all credit to Virgin Trains for once! I arrived in Glasgow in plenty of time to meet up with a few old friends and imbibe a few of Glasgow's finest non- alcoholic beverages (OK, so you got me - 70S and 80S respectively!) Then off to the gig.

The Renfrew Ferry is an unlikely setting for a show - a roll-on-roll-off car ferry "parked" on the banks of the River Clyde. Nonetheless, Steve likes the place enough to keep on coming back, and indeed I had a thoroughly enjoyable time there at the 2007 Genesis Convention. The crowd were certainly much more up for it than they had been at Buxton and it showed, as Steve and the band seemed much more relaxed and they turned in a superb performance which had the crowd enthralled from the very start. For me, the highlights of the show were definitely in the newer material, Emerald And Ash, Fire On The Moon and simply grew in stature with each and every performance and here they were given the kind of reception that they really deserve.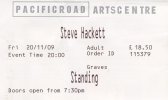 Back down to my part of the world next for another gig at the marvellous Pacific Road Arts Centre. Sadly it looks like we may be losing this venue to Council cutbacks (shame on you, Wirral Council!) but that didn't stop the band putting in another marvellous performance. Once again, the crowd seemed to give Steve and the band just that extra lift to make the gig a bit out of the ordinary. The partisan and knowledgeable crowd greeted old and new tracks like with the kind of sustained enthusiasm that musicians must really relish and from where I was standing, the band certainly seemed to be in their element.
Another favourite haunt next, the Quays Theatre, part of the Lowry Complex on Salford Quays in Manchester - within sight of that place which as a true Scouser, I am forbidden to name! This is a lovely little theatre and acoustically perfect to and it showed tonight in an impeccable performance. Impeccable that is except for problems which Steve was having with his amp throughout the first half of the show which, like Buxton, was in two halves. Steve was obviously getting more and more frustrated by this problem and he was certainly using some industrial strength language which we cannot repeat in a family web site like TWR! That didn't prevent the rest of the band putting in marvellous performances which even drew some praise from Chris Squire, who was stood next to me at one point. In fact, it was quite an interesting night all round as Chris had brought the new singer in Yes; Benoit David to the gig and I was lucky enough to meet them both backstage after the show. Also present was Phil Henderson, who had worked with Steve on the Quiet World album and a future TWR interview was duly lined up with him as well!
A trip up to the land of "Last Of The Summer Wine" * next for a gig at the Picturedome in Holmfirth. A strange place for a gig - bitterly cold during the sound check but it soon warmed up once the audience arrived and once again it was a delight to see John Hackett there along with his good lady; Katrin and Steve's dad; Peter, who was definitely enjoying himself throughout the gig. The set was by now running like a finely tuned machine with everyone having their chance to shine. Nick and Amanda's antics during Still waters were simply amazing, having a female vocalist in the line up certainly gives the harmony vocals a great lift - not that the guys can't carry a tune because, between them, Steve, Gary and Nick acquitted themselves magnificently each and every night. It was a treat once again to see John on stage with Steve or the acoustic set, which by now also included a marvellous rendering of Walking Away From Rainbows on which Roger shone. Other highlights included marvellous performances of Spectral Mornings, Every Day as well as newer classics including Emerald And Ash and Fire On The Moon both of which are destined to remain in the set for many years to come, I am sure.
| | |
| --- | --- |
| Then it was over - or so I thought until I persuaded myself (not that I really NEED any persuasion to attend a Hackett gig) to go to the last show of the tour at Leamington Spa. Another venue I had never been to before, and a lovely one at that. It was quite an emotional night for a variety of reasons, not least being that my very good friend, and long standing Hackett fan; Stuart Waby finally decided to ask his fiancee Di, to marry him during Blood On The Rooftops. She said "yes" and as a result, yours truly is to be best man at the wedding! Musically, the gig was every bit as emotional with fine performances all round. Nick and Amanda's antics threatened to get the show X rated again and the rest of the band were obviously having a great tine, as indeed were the audience who gave them an enthusiastic reception throughout the show. It was nice at the end of the gig as Steve announced on stage not only his new partner; Joanna Lehnmann but also, his mum; June who had only just made it to the gig in time for Clocks after having broken down on the motorway! | The Hackett family... |
Then that really was it. Seven magnificent gigs. Why does time have to fly so quickly when you are having fun, eh? Anyway, I am sure we will all do it again next year at some point so until then, all that remains is for me to say my thank you's to the people who made in possible. So, in no particular order, thank you to… Steve, Gary, Rob; Amanda; Nick and Roger who put in stellar performances night after night. John and Katrin Hackett, June Leaney, Peter Hackett, Nick Clabburn Nick Magnus and Dick Foster for all their help and support. To Nathalie Pointer the new ( and infinitely better looking) merch mistress for all her help and kindness. To "Mr" Brian Coles, the obergruppentourfeuhrer without whom I would certainly be doing something else instead of Hacketting! To Ben Fenner, "Tigger" Matthews, Richard Buckland and Steve Barnett without whom we would all be sitting in the dark and silence at these gigs. To Jo Lehmann for all her kindness and enthusiasm and above all for her support of Steve during this tough period.
To the fans… Oh; alright then! To Kevin Fearn and Clive Beesley for fulfilling this year's chauffeur duties so impeccably. Steph Kennedy, Brian and Alison Lancaster; Stuart Waby and Di; Kevin and Rachel "The Brat" Powell; Steve Llewelyn; Steve Hammond and family; Richard Coppola; Paul Gibbon and Jade; Stuart Barnes; Sarah Dean, Richard and Andrew Nagy and to the photographers who have kindly given of their work to accompany this feature; Dave Roberts and Lee Millward, and finally to the many fans who bought the book and were kind in their comments about it to me at the gigs; see you all next time!

* Trivia Note: "Last Of The Summer Wine" is a BBC TV comedy series, for our overseas readers.