"Around the UK in not quite eighty trains" - TWR's British Isles in the company of British Isles in the company of Mr S Hackett Esquire. Review by Alan Hewitt. Photographs: Alan Hewitt, Lee Millward, Jill Walker and Richard Davies. Memorabilia: TWR Archive.
Well, it had to be done, didn't it? Hackett on tour and various anniversaries to celebrate so what better way to do that than hit the highways and byways of the UK once more. Touring the UK in February can be a risky business and so with one eye on the train timetable and the other on the weather forecast, I set off for the first of this year's gigs on our itinerary and a trip to Edinburgh. Now I am no stranger to Scottish gigs having had the pleasure of several memorable evenings at the Ferry in Glasgow but Hackett in Edinburgh was a first for yours truly.
Meeting up with several friends beforehand for a lemonade or two this promised to be a great opening night and I was not to be disappointed. The venue for the gig, the Queen's Hall is a Baptist/Methodist Chapel and as such has superb acoustics. Even better from my perspective was my delight on arrival to find that I had probably the best seat I have had for a Hackett gig for many a year- front and centre about three feet away from the man himself!
The show began in fine form with a quartet from the new album. Loch Lomond was always destined to be a show opener and quite appropriate in this Scottish setting, it got things off to a fine start tonight merging superbly well into The Phoenix Flown. Anyone who saw last year's shows would have already be familiar with Prairie Angel, but tonight the angel soared away into A Place Called Freedom which without doubt has to be one of the most magnificent songs that Steve has ever committed to an album - a marvellous start.
A trip back to the 1940's next with the tale of child spies from 1999's Darktown album; The Golden Age Of Steam which featured some fine playing from the band and in particular Mr Townsend on tin whistle along with a great harmony vocal from Steve, Amanda and Gary. Steve's "problem" album, Out Of The Tunnel's Mouth gets a look in next with an astonishingly emotional Fire On The Moon, Lee Pomeroy's bass threatened to tear the roof off the hall at times, and Steve put his heart and soul into the vocal performance too. A golden oldie next; Every Day. I have so many memories of this song that it is difficult to believe that it is almost thirty three years since I first heard it and it is still a belter of a number! Then back to the new stuff with a delicious performance of Waking To Life. Amanda Lehmann took centre stage here with a magnificent vocal performance.
I may have mentioned before my concern about the amount of Genesis material creeping into Steve's shows of late but even I could not complain about the next pairing, a superlative Carpet Crawlers got the biggest cheer thus far from the crowd but that was as nothing to Firth Of Fifth, take a bow Steve, Gary and Mr Roger King who played this one to perfection - Roger even managed to look happy during this one! Cue audience going nuts (me included of course!).
Serpentine Song, the wonderful homage to Steve's artist father Peter from 2003's To Watch The Storms album was next. A delicate and yet beautifully observed song full of lyrical excellence and musical quality, always a favourite of mine in the live set.
Steve has decided to cast his net even further back into the archives none more so than with our next track; Shadow Of The Hierophant from the heady days of 1975. Another one which brought back a heap of happy memories for me and once again, Amanda put in a truly remarkable performance sending shivers up and down the collective spines of the audience I am sure.
Till These Eyes and Enter The Night brought the new album back into sharp focus again. The former is a delightful love song, of the type which only Steve can write while the latter has a lengthier pedigree having seen previous incarnations as both Riding The Colossus and Depth Charge. I always said to Steve that it should have lyrics and now he has obliged me and I have to say the end result reduced me to tears - in a nice way! A superb barnstormer of a track!
No Hackett show would be complete without an acoustic moment and tonight was no exception and I was delighted to hear Walking Away From Rainbows faultlessly performed by Steve and Roger before we were treated to a glorious version of Blood On The Rooftops, cue much blubbing from yours truly again! The Genesis vein continued next with a shattering performance of Fly On A Windshield. Kudos to Gary and Lee in particular on this one, their rhythm section was impeccable and I could almost imagine the cry of "Ramming speed, hortator" * echoing around the room.
Sleepers lulled the audience into a false sense of quiet which was soon shattered by the evening's set closer; Los Endos which got everyone off their feet in participation.
Of course, we all knew that encores would be coming and it wasn't long before Steve and the band returned and Roger launched into the sepulchral tones that heralded the arrival of Watcher Of The Skies. Bloody magnificent all round. Gary delivered a master class in percussive and vocal excellence here and the rest of the band weren't far behind either. What could close such a magnificent show? Well of old the answer would have been Clocks of course, but this is Hackett 2012 style so instead we got Spectral Mornings, oh alright then! Steve proceeded to rip the hairs off the back of the audiences' necks with some truly fearsome riffing while the rest of the band took their final chance to shine with equal gusto ending a wonderful night on a suitably high note.
Edinburgh photo gallery:
Next stop Holmfirth and Last Of The Summer Wine country and the Picturedome which had been the scene of several triumphs by the band in recent years. On arriving at the venue however, I was amazed and disappointed to see that the downstairs area had been seated! BIG mistake! Part of the atmosphere that makes a gig here special is the fact that people can stand up and enjoy themselves which adds enormously to the vibe of a gig. Sadly that was going to be lacking here tonight.
That said, the band pulled out all the stops and with the show remaining the same as it had been last night in Edinburgh, an enjoyable evening was had by one and all. Once again highlights included wonderful performances of Loch Lomond/Phoenix Flown/Prairie Angel/A Place Called Freedom, Waking To Life, Shadow Of The Hierophant … sod it…the entire show was a masterpiece in entertainment value!
Holmfirth photo gallery:
Moving further westwards-ish and our next stop was Buxton and its famous Opera House where Steve had played back in 2009. Then I had said that the setting had perhaps contributed to rather restrained behaviour from the audience. Well, nothing had really changed and once again the crowd, although obviously enthusiastic felt impelled to behave themselves. One surprise tonight though was the appearance onstage with Steve of his brother John for a marvellous performance of Hands Of The Priestess during the acoustic set.
Buxton photo gallery:
Next stop New Brighton, my "home town" gig even if it was across the river from the 'Pool. A special night in more ways than one. My 50th birthday had arrived and it was going to be party central at the newly constructed Floral Pavilion. Meeting up with several good friends for a few pre-gig lemonades, we took our seats for what was going to be a memorable night all round.
The Floral Pavilion is a brand new auditorium which replaced the somewhat run down older hall a couple of years ago. Beautifully laid out and acoustically excellent this was going to be a treat. And so it was, from the moment Steve and the band arrived on stage the audience took them to their hearts and there was much light hearted banter flowing between Steve and the audience throughout the evening - not all of it emanating from me either!
With the show remaining as it had been at the previous gigs, I knew what to expect but even so, the band managed to pull out a few surprises. Once again there were several stand out tracks and performances. The opening quartet of tracks from the new album just gets better and better. In fact, all of the material from the new album shone like polished diamonds tonight. Speaking of gems, evergreen classics Every Day and Shadow Of The Hierophant glistened with renewed vigour.
Of course, the Genesis material went down well with a partisan crowd such as this but the biggest cheer of the evening was reserved for the final track; Spectral Mornings and it didn't have anything to do with the birthday dedication that Steve made to me before it either - a marvellous way to celebrate any birthday!
New Brighton photo gallery:
A few days' r & r before I was off on my travels again. This time to the wonderful Assembly in Leamington Spa which still rates as one of the finest concert venues in England. There was some confusion over the start time for this one. A rock disco was scheduled to take place immediately after the gig - go figure!
Anyway, Steve and the band arrived on stage thankfully later than planned otherwise there would have been a LOT of angry Hackett fans missing half the gig! It was nice to bump into Steve's brother John and his good lady, Katrin before the gig although John was enjoying the chance to be a spectator rather than a participant tonight. With the crowd restless for the show to start, the band eventually took to the stage at a far more respectable 8pm and once again the show followed the now familiar pattern of performance. From my vantage point behind the mixing desk, I was able to take in the show from a respectable distance and visually it is every bit as impressive as it is musically. Lit tastefully throughout the band rampaged their way through a set heavy on the new album (as it should be in my opinion) and the new material once again sat very well alongside some of the established classics that they rubbed shoulders with. Each and every track was delivered by a band who are evidently enjoying being out on the road and despite the fact that Steve had been full of flu for most of the preceding week, you would not have known it, the sign of a true professional!
Once again, it is hard to pick out highlights from a show in which each and every track is deserving of that title but once again, the opening quartet blew everyone away with its majesty and power. Serpentine Song and Enter The Night seemed to have a special resonance for me tonight as well and it is hard to describe the audience's reaction to the Genesis material - nuts is the best one I can find. It was also nice to hear Steve mention my old mate Dave Roberts whose birthday gig this was (21 again, eh Dave?) all in all a great night. Mind you, as we retired backstage afterwards as the rock disco got under way there were a few more surprises in store. Anyone who knows this venue will be aware that the backstage area is bizarre to put it mildly! As we entered, we were confronted by a full-size Dalek chasing Gary and Rob around the room and along side that we still have Tammy Wynnette's Winnebago there too. Another surprise guest made his appearance shortly after we arrived, Mr Steve Hogarth from Marillion no less - small world, eh?
Leamington Spa photo gallery:
Schmoozing over, it was onwards and downwards to Bilston for the last gig of this year's TWR tour. Always a great venue for a gig this one was to be no exception and with a standing crowd the atmosphere was every bit as electric as it had been the previous night. A knowledgeable and enthusiastic crowd welcomed Steve and the band onstage. Cue cheering from the rafters as Loch Lomond set the pace and tone for a celebration of all things Hackett. The crowd lapped up the new stuff with evident relish which I am sure was appreciated by Steve and the band. From the outset the band were obviously bent on having a great night and they certainly ensured that we, the audience did too. With this being the last show I was to see this time round, it was quite an emotional night, stuff upper lip quivering included! Nice to hear my old friends "The Mellotrons" get a mention from Steve before Fly On A Windshield (wonder who organised that?!). Amanda shone again on Waking To Life and Shadow Of The Hierophant. Gary played and sang his heart out throughout the evening and none more so than during Blood On The Rooftops and Firth Of Fifth in which the honours were shared with Roger and Steve. The incredible rhythm section of Gary and Lee threatened to bring the roof down during several tracks while Rob added his marvellous percussive and windblown talents to much of the proceedings. This has to be probably the best band that Steve has ever assembled and each and every member can take a well deserved bow for their magnificent efforts this time round.
Bilston photo gallery:
Then it was all over. Amazing how time flies so quickly when you are having so much fun and this was FUN believe me! All that remains now is for me to say my thank you's to all involved so here goes… First of all, to Steve, Gary, Rob, Lee, Roger and Amanda for playing their hearts out night after night. To Jo who was such a big help to me and the fans at the shows despite being unwell with a chest infection at several gigs. Grateful thanks to John, Katrin and June for welcoming me into the "family". To Mr Brian Coles for making sure everything went according to plan. To Ben Fenner for his sterling work on the sound and to the crews at each venue for all their hard work putting the shows on.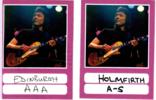 Of course I couldn't leave without mentioning that larger family; the fans so my grateful thanks to Steph Kennedy, Petra Leech, The Melltrons (AKA: Kevin, Shirley and Rachel Powell), Steve, Julie and Richard Hammond, Eddie Killen (AKA: Superted), Brian and Alison Lancaster, Alan Caskie, Ian Collier, Douglas Grant and Tony Reynolds (AKA: The Kilted Contingent), Kevin Fearn and Peter Blundell, Frank Rogers, Shaun McHugh, Jill Walker, Dave Roberts and anyone else I may have forgotten - thanks for making a happy fan very old!

* Check out Charlton Heston's film version of Ben Hur if you are not sure what a Hortator is!