"Analog or Digital, that is the Question..!" - Frank Rogers gives us his side of the Tony Banks interview found elsewhere in this issue... Photos by Stuart Barnes and Frank Rogers.
The 27th June 2015, a date that will provide memories that will last for a very long time.
A 7am train from Liverpool to London, followed by a migration of the London tube system, with Alan Hewitt, to meet up with fellow TWR person, Stuart Barnes. Our meet up was followed by a short journey into the wilderness. A brief stop off, for nourishment, and a comparing of notes, then a short distance to our destination, The Farm Studio, where outside, we were met by THE Anthony George Banks, to you and I, simply - Tony.
Tony welcomed us, and guided through into a reception area, where we would do our Interviews with him. He offered to make us a cup of tea, only to realise there was no milk. I didn't have the heart to tell him, I don't take milk.
Yes, Interviews, plural, Tony was not getting away lightly, there were to be two Interviews. The first interview carried by Alan Hewitt, was the discussion of Tony's upcoming release 'A Chord too Far', a 4 CD box set due for release at the end of July, followed by an interview/ discussion for TWR's 'Let's get Technical'.
And so, having set up recording equipment, and permission from Tony to video the interview, Alan got underway, whilst Stuart and myself ensured that adequate amounts of photographs were taken. On previous interviews I've seen of Tony, he always looks highly composed, but today I saw a different side, he was very controllably relaxed, even managing smiles and jokes along the way. It was really nice to see Tony like this.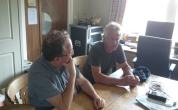 As always Alan did a fine job with his interview, and I think what got things off to a great start, was Alan's opening of , "we're not here to talk about the documentary" to which Tony replied - "Good". And I think that created a relaxed tone.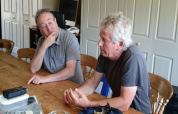 Tony certainly gave a great deal of info, and as usual was aiming for the 'most number of spoken words per minute award'
After Alan's interview concluded, next up it was Stuart (Barnes) and myself, to take on the 'Let's get Technical" chat.
The full interview will be available elsewhere in this edition of TWR, but rather than an interview, it very much felt like a couple of friends having a chat in a pub, such was the relaxed nature of the interview. Tony, again was extremely comfortable talking to us, and didn't shy away from any of our questions, and the possibly obvious questions, we didn't ask, such as 'is there going to be a reunion', 'what did you think of the documentary'.
The LGT chat lasted about an hour, and in the whole time period it was constant chat, pretty much all of the questions we had were asked, and in several cases Tony answered some without the need to ask.. For the final question, Tony was given a 60 second challenge to recount as many keyboards as he could that he has used. Yes Tony, you did pretty well. I certainly had over 40 on my list.
After the conclusion of the interview, Tony took a few minutes out, and was kind enough to sign some, well our stack full of our cherished belongings. Tony joked, he'll be checking eBay on Monday.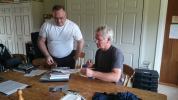 Finally, came the keyboard players dream, and I guess the dream for any Genesis fan, that being a tour of the Farm. We were treated to a tour of the Mixing Desk, and then onwards past the studio area, and on in to keyboard heaven.
Tony gave us a tour round his keyboard collection, and the chance to take some once in a lifetime photos, in my case with the Synclavier, and the Prophet 10. Tony pointed out the 2 ARP Quadra's he still has, a Mellotron and whole host of other kit. For me, this was simply living a dream.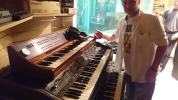 Tony all the while, was completely at ease with us, and then finally, we went back to the Mixing Desk for a few final photographs…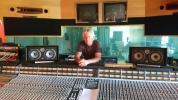 Just before our departure, I noticed on the wall, a picture of my personal favourite album, and so one more Picture with Tony.



My interest in Genesis began approx 1978, so a fan of many moons. I cannot begin to put in to words how much this has meant to me, it has been a real honour. So my massive gratitude to Alan and Stuart for making this happen, and massive thanks to Tony for giving his time up to chat with us.
And as for that question 'Analog or Digital'. You'll have to read the full interview report for his explanation.