MUSICIANS' CORNER
Yes, despite Lockdown doing its best to ruin everything musically, there has still been enough music getting past the Border Guards to make it interesting and so, here is the latest roundup of what TWR' s editor has been listening to when not focussing on all things Genesis…
First up, Marillion - a band whose own credentials as a poor man's Genesis in their early days, have been busy going down the remastering route taken by so many heritage acts these days. Their latest reissue is their debut album: Script For A Jester's Tear which I am very find of and which featured prominently in my listening whilst a student.
I have to admit though that accusations levelled at the single, Grendel as being a Supper's Ready rip-off eluded me at the time. I guess I was just thrilled that anybody had taken a chance on writing a song about one of my favourite poems, and even more perversely, doing so from the villain's viewpoint.
Looking at the album now with the benefit of 37 years' worth of hindsight, it is plain to see that the band nailed their initial credentials firmly to Gabriel's coat tails. In Fish they had the ideal person for this, not only did he sound uncannily like Peter at times, but his own penchant for wordy and at times, obscure lyrics put him firmly in that mould.
The album was well produced at the time and has stood up well ever since but the reissue does bring out extra nuances in the music. Remastering can also expose any flaws that may be present and it has to be said that on this one it has exposed the fact, which most of us knew anyway, that sadly Mick Pointer was not that great a drummer, and you can hear this for yourself in many of these tracks which, if the drumming had been in the hands of the man who eventually succeeded him; Ian Mosley, the results would have been even more impressive.
That said, as a debut album, this was and remains an impressive effort, chock full of favourites of mine including dear old Grendel which I still love, despite the brickbats aimed at it.
Unlike several of its predecessors, there are no demos or alternative takes to digest on this one. Instead we have a complete live recording from one of the band's legendary performances at London's Marquee Club from late 1982. If you, like me, saw the band at this stage of their career you will know exactly what to expect from this one, and listening to it always brings a smile to my face. Live, Marillion were, and remain a force to be reckoned with and you can see that this was the case from the very start when hearing these recordings.
The accompanying documentary: "Sackcloth & Greasepaint" is also a fascinating and honest recollection of the making of the album featuring contributions from all of the protagonists who are refreshingly honest about the ups and downs of this period in the band's story.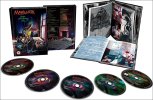 All in all, another essential addition to any Marillion fan's collection.

Next up, the latest in the Jethro Tull reissues series. This time we reach the last of the Seventies albums and the final one of the trilogy which have been unfairly labelled as the "Folk Rock " albums: Stormwatch.
An altogether darker album than either of the two which had preceded it. This one contains much that was topical then, and forty two years later, is still topical now. The energy crisis of the mid Seventies is addressed on the album opener, North Sea Oil which is still a vexed point even now.
Industrial and social unrest is explored in Dark Ages and once again, the song still has a message to be listened to even now. Thankfully, the gloom is pierced by several rays of sunshine in the shape of Warm Sporran - a delightful Scottish jig, whilst Dun Ringill remains one of Anderson's finest compositions to my mind.
As usual with these reissues, there is also a plethora of previously unreleased material which will give Tull anoraks such as myself more than enough to be happy with. Sadly there is no live footage from the tour gracing this one but we do have a superb complete live recording from the show in Den Haag which more than compensates for that.
Once again, the set is accompanied by a superb booklet outlining the development of the album and the issues associated with it, detailed gig and recording details and a host of other unseen memorabilia and photos make this another essential addition to a Tull fan's collection. Why can't another band we all know and love do them like this?!