Welcome to The Waiting Room - the Genesis web-fanzine featuring all the news, reviews, interviews and more concerning Genesis and related projects - first, a word from the creators of TWR...
---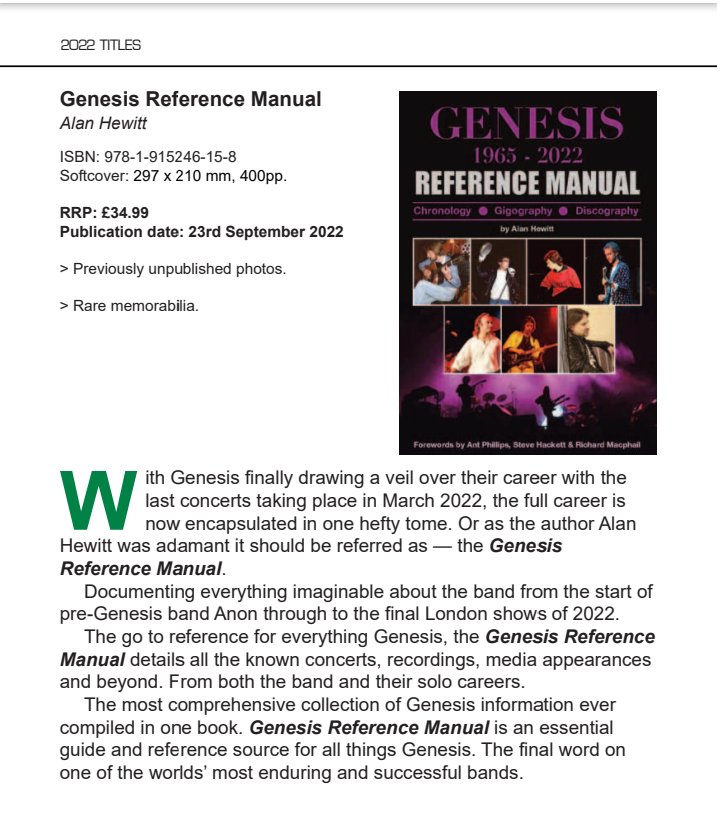 ---
WORDS FROM THE EDITING SUITE….
Hello and welcome to yet another edition of TWR, yes the old dog is still alive although not quite as active as we used to be!
Now that we have all recovered from the final performances by Genesis themselves, it is time to perhaps take stock of things. TWR was created back in the summer of 1987 when Genesis were at their height to be an active forum for all things Genesis. We weren't alone in this then and we certainly aren't alone now! The abundance of websites, Facebook pages and other groups has made sure of that and question the validity of TWR and it's continued existence. Should we pack it in and ride off into the sunset? Tempting...very tempting! After all, despite what many may think, writing a magazine/ site is no easy task, especially when you have been doing it for as long as we have - you get less for murder! However, like the band themselves the ethic is simple: while we enjoy doing it, we shall continue doing so. Hence this, our 113th edition. Hopefully its contents may just inspire some of you to write a feature for us. Your input is always welcome you know!
Anyway, enough rambling, on with the news…
Genesis may now be on permanent hiatus but that doesn't mean that there aren't projects in the pipeline which we can whet our appetites on. Recent news indicates that at last, the much talked about BBC sessions recordings will be gaining an official release next year. According to a recent interview with longtime producer, Nick Davis these will comprise a three CD and five vinyl album set. Davis gave no indication as to whether the remaining missing tracks from the sessions have been located or not but even so, I am sure fans will welcome this release.
It is also rumoured that Esoteric Records acquired the remaining recordings from the Jonathan King archive from the 1967-69 period for a putative release. What form this may take and what previously unreleased material may feature on it remains unknown but it would be fascinating to finally hear the remaining material from this formative period in the band's story.
One thing that will not be seeing the light of day however, is the much talked about footage from the Atomic Sunrise Festival. An attempt by its "owner" to release it commercially has been blocked by Genesis' management. The owner also ran the risk of incurring the wrath of the BBC as he has apparently synched audio from the above mentioned BBC sessions recordings to the otherwise silent footage.
Sadly, in the same interview with Nick Davis he also confirmed that there will be no official live release from the recent tour mainly due to the obvious reason that Phil's voice was not in great shape! Fortunately for collectors there is a positive plethora of unofficial live footage and/or audio recordings available - some of which are remarkably good quality!
News reports recently indicate that the band have sold the rights to their post Gabriel/Hackett Genesis and solo catalogues to Concord for a sum reportedly in the region of £300,000,000 - a hefty final payday indeed! What this means for any further releases remains to be seen.
Your editor has also been busy with the publication of his final (honest) book on the band - The Genesis Reference Manual which was published in September. I trust you have all purchases your copies?
| | |
| --- | --- |
| Steve Hackett continues to tread the boards around the world presenting his Genesis Revisited shows as well as finding time for gigs with Hungarian Jazzers, Djabe and a review of one of those gigs can be found elsewhere in this edition. Having played catch up with the Seconds Out shows, Steve is currently (at time of writing this) on tour in the UK with the Foxtrot At Fifty shows and as usual a TWR tour report will be available in our next edition. Steve's show at the Dome in Brighton was the one selected for this year's live album/DVD release. Steve will be taking some time off after the tour ends to write and record for a new album next year. | |
Mike + The Mechanics have also announced their return to the live stage with a UK and German tour for next spring. Whether there will be any new album from the band remains to be seen but we are sure the band will be as entertaining as ever.
Ray Wilson also continues to tour around Europe and a new album from him will probably be in the offing next year.
The waiting is finally over! Peter Gabriel has announced the first batch of tour dates in support of his new album, which we must assume from the advertising is to be called I/O. The shows run throughout May and June of next year in Europe with further US dates to be announced soon. The release date of the album itself has yet to be announced.
Esoteric Records continue their reissue compaign for Anthony Phillips' back catalogue with the extended edition of the Wildlife album including several new and previously unheard tracks including The Victors, the track Ant and Mike Rutherford co-wrote for a showjumping programme many years ago which also featured Mike's wife Angie. Expanded and with an essay on the album by Ant's archivist, Jon Dann, this is to be released on 23rd January next year. We hope to catch up with Ant soon for a long overdue chat about this and the recently released Missing Links box set.
And that's all the news for this edition.
Alan Hewitt
Liverpool
December 2022

---

Click here for the full press release (PDF)
For more info and pre-ordering, please visit Wymer Publishing.
DON'T FORGET THAT STEVE HACKETT'S OFFICIAL WEBSITE IS NOW AT WWW.HACKETTSONGS.COM.
---

Genesis Revisited, the latest book from TWR editor Alan Hewitt is now available to order online at Record Corner's Amazon webshop
According to their profile, they will post internationally.
Save on postage...!
Genesis Revisited is now available over the counter at:
Record Corner
Pound Lane
Godalming
Surrey
GU7 1BX

Tel: 01483 422006
Paperback edition only at the moment!
Also, in an exclusive deal with Willow Farm Publishing, Genesis tribute band Los Endos are selling brand new copies of both versions of the book at their gigs, at heavily discounted prices!