Welcome to The Waiting Room - the Genesis web-fanzine featuring all the news, reviews, interviews and more concerning Genesis and related projects - first, a word from the creators of TWR...
---
WORDS FROM THE EDITING SUITE….
First up, some good news for Anthony Phillips fans. Ant has managed to complete his next guitar album. The album, titled Strings of Light is Ant's first new album since Seventh Heaven back in 2012 and his first totally guitar based album since Field Day back in 1999. You can read an interview with Anthony about the album along with a bumper crop of AP related features elsewhere in this issue.

A brace of tribute gigs featuring the music of Ant and Mike Rutherford from the seminal albums The Geese & The Ghost and Smallcreep's Day are to be performed at the Trading Boundaries venue in mid November to promote the release of a tribute album which among others features performances by Steve and John Hackett, Nick Magnus and Noel McCalla who was the original singer on the latter album. We hope to have a feature about the album and the concerts in our next edition.
Speaking of Mr Magnus, Nick's latest album, Catharsis is due for release in mid October and we have a feature on it and an interview with Nick about it in our next edition.
Tony Banks' Banks Vaults box set was released by Esoteric Records on 19th July. We managed to talk to Tony about this project and you can read his comments in the interview elsewhere. We also have an exclusive with Jayney Klimek whose vocals grace two of the albums in the box and a review of the box are all to be found in this edition too.
Mike & The Mechanics concluded their Looking Back (Over My Shoulder) tour with a series of highly successful concerts in Europe , several sharing the bill with one Philip Collins Esquire! The new album; Out of The Blue scored another decent chart position for the band as well. Andrew and Tim are now occupied with outside projects and Mike, as mentioned in the interview we did with him in #104, is taking a well earned break.
Speaking of Mr Collins, Phil recently completed his enormously successful European tour , another leg of the expanding Not Dead Yet Live tour which has e seen him tour in the UK, North and South America, Australia and New Zealand and with another extensive jaunt around North America still to come in the autumn. Sell out crowds have attended all of these gigs and have proven that Phil has lost none of his popularity.
Ray Wilson continues to tour throughout mainland Europe in one incarnation of show or another. A new album will, I am sure, be in the offing in the not too distant future and we shall do our best to keep you informed on that as and when we receive any information on it.
| | |
| --- | --- |
| There is no definite news on Peter Gabriel's activities apart from the recent release of a compilation vinyl release of some of his most recent film soundtrack contributions for a Record Store Day release. He also made a rare appearance on stage at this year's Open Text Enterprise World gathering in Toronto on 9th July performing a short set comprising the following songs: Solsbury hill, Big Time, Mercy Street and Washing Of The Water. Other than that, there is no definitive news on whether another album is in the making and after seventeen years since the last one, the likelihood of one is becoming increasingly unlikely I would think! A photo book has recently been published about Peter's career by those good folks at Wymer Publishing with a narrative text by someone called Alan Hewitt, never heard of him myself but maybe some of you have! | |
Nick Magnus also releases a new album in October, titled Catharsis. You can read the interview I recently conducted with him about it in a forthcoming edition.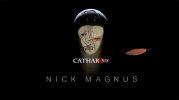 That's about it for this edition, we hope you find the contents interesting.
Alan Hewitt
Liverpool
October 2019
---

Click here for the full press release (PDF)
For more info and pre-ordering, please visit Wymer Publishing.
DON'T FORGET THAT STEVE HACKETT'S OFFICIAL WEBSITE IS NOW AT WWW.HACKETTSONGS.COM.
---

Genesis Revisited, the latest book from TWR editor Alan Hewitt is now available to order online at Record Corner's Amazon webshop
According to their profile, they will post internationally.
Save on postage...!
Genesis Revisited is now available over the counter at:
Record Corner
Pound Lane
Godalming
Surrey
GU7 1BX

Tel: 01483 422006
Paperback edition only at the moment!
Also, in an exclusive deal with Willow Farm Publishing, Genesis tribute band Los Endos are selling brand new copies of both versions of the book at their gigs, at heavily discounted prices!