Welcome to The Waiting Room - the Genesis web-fanzine featuring all the news, reviews, interviews and more concerning Genesis and related projects - first, a word from the creators of TWR...
---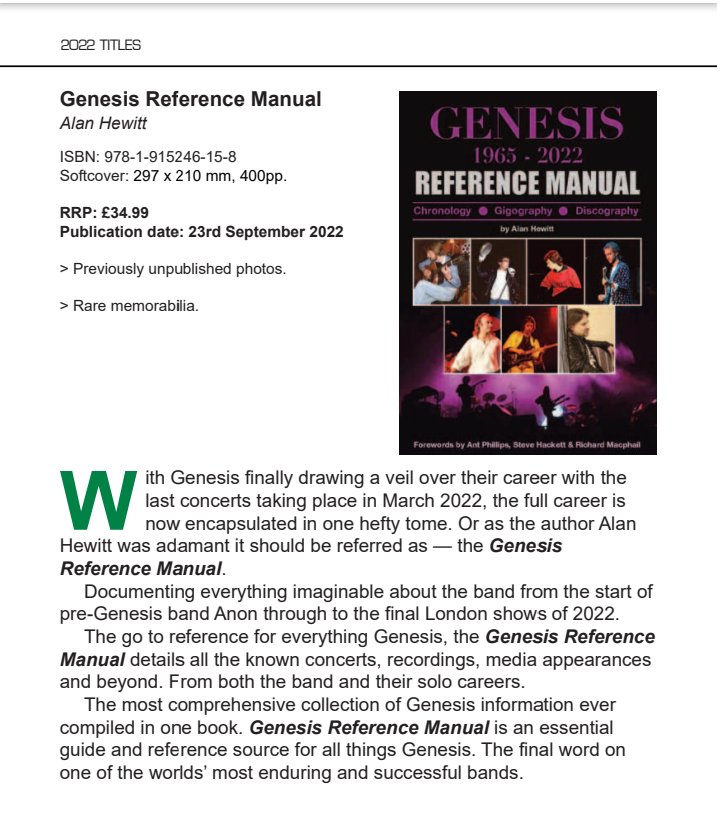 ---
WORDS FROM THE EDITING SUITE….
Hello everybody and welcome to yet another edition of your favourite Genesis webzine! Before I go any further, I should like to say something. As we approach our 36th anniversary - itself an amazing achievement - the time may soon be ripe for TWR to ride off into the sunset. Thirty six years is a long time to keep anything going and after all this time, I no longer feel that there is much left for me to say on the subject of Genesis that I haven't already said either through the pages of TWR or via my books. Don't worry, I ain't retiring just yet, but, and it is a big BUT, unless you, the readers start to take a more active role in the magazine then… We have always encouraged readers to contribute features etc and the need for your contributions is greater than ever. So, get your thinking caps on! What you write is entirely up to you and any ideas that you have will only make TWR the fan magazine it has always been and the more involved you are, the better the end result. So, it really is up to you folks.
Anyway, here is the news…
The on-off saga of the Genesis tour was finally resolved (almost) when the band undertook their first full UK tour in over thirty years although even this ran foul of Covid when a band member contracted the virus which led to the cancellation of the second Glasgow show and the postponement of the trio of gigs in London. The latter will now constitute the culmination of the tour at the end of March 2022. Thankfully the US tour went off without a hitch!
The rumour mill took one final twist when the BBC reported that both Steve and Peter would be reuniting with the band at the London gigs! Pity no one took the opportunity to actually check what the people involved were doing. Steve was otherwise occupied and as for Peter...well, who knows what he was doing?!
Record Collector Magazine published a special edition dedicated to Genesis in March. Your editor was honoured to be asked to contribute two features to it.
Both Steve and Genesis' latest albums have done good business in the charts. Steve's latest, Surrender Of Silence got to number 10 in the album charts and The Last Domino compilation reached number 4.
With Mike, Phil and Tony and Steve out on the road, the news department is rather bare this time round. However, at last there is news of a sort from the Peter Gabriel camp. According to recent news reports, Peter has a "new" album ready for release some time in 2022. We wait with bated breath for further news on this.
Exciting news for fans of Mike's debut album, Smallcreep's Day which is to be reissued in March. Sadly it has neither been remastered or had any extra material added to it but for those of you who haven't already got this masterpiece, now's your chance!
Ray Wilson's new album: The Weight Of Man was released on 4th September 2021 and Ray continues to gig throughout mainland Europe. A review of the album can be found elsewhere in this edition and we hope to have an interview with him in our next issue.
Anthony Phillips continues to work on several library projects and he also recently told TWR that he is also working on material for a piano based album. In the meantime, Esoteric Records' reissue of the Archive Collection Volume 1 & 2 was released on 22nd January. A Tribute album to Ant's music titled A Light On The Hill was released in December 2021 and reviews of both can be found elsewhere in this edition.
That's it for the news, enjoy the rest of this edition…

Alan Hewitt
Liverpool
April 2022

---

Click here for the full press release (PDF)
For more info and pre-ordering, please visit Wymer Publishing.
DON'T FORGET THAT STEVE HACKETT'S OFFICIAL WEBSITE IS NOW AT WWW.HACKETTSONGS.COM.
---

Genesis Revisited, the latest book from TWR editor Alan Hewitt is now available to order online at Record Corner's Amazon webshop
According to their profile, they will post internationally.
Save on postage...!
Genesis Revisited is now available over the counter at:
Record Corner
Pound Lane
Godalming
Surrey
GU7 1BX

Tel: 01483 422006
Paperback edition only at the moment!
Also, in an exclusive deal with Willow Farm Publishing, Genesis tribute band Los Endos are selling brand new copies of both versions of the book at their gigs, at heavily discounted prices!